USB Safely Remove is a USB device manager. It saves time and extends user abilities on active work with flash drives, portable drives, card readers and other gadgets.
The main disadvantage of using built-in Windows safe removal tool is that in case of having several hot-plug devices it is quite difficult to recognize a needed to stop device – the most devices have the same name – "USB mass storage device".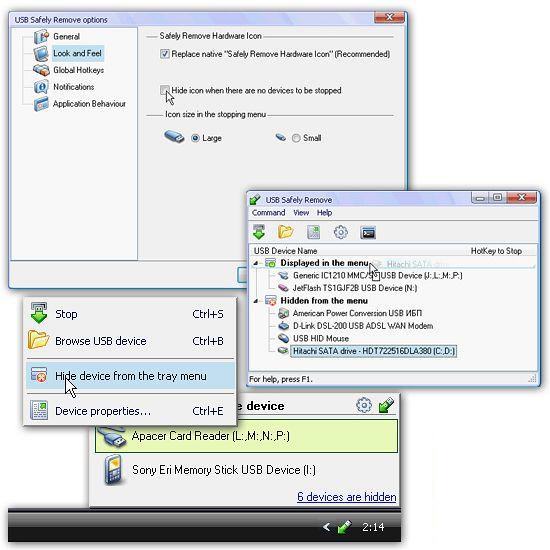 In addition, Windows does not let you hide a device you would not want to stop from the menu. USB Safely Remove saves you from these problems and offers an original and multifunctional stopping menu, which displays actual device names with icons. Using this menu you can find and stop a device in a snap!
Like to do everything using the keyboard? Now you can stop and view devices with only ONE hotkey! No need to remember keyboard shortcuts for each device. Being in any application, press the key combination (Win+S by default) and you will see the stop menu. Use the Up\Down Arrow keys to select the device you need and either press Enter to stop it or Ctrl+B to view the contents of the device disks. Also you can assign a dedicated hotkey to stop a certain device.
Another USB Safely Remove feature that distinguishes it from similar software is starting any applications not only after connecting a device, but also before removing it. The autorun feature allows you to set up data backup before disconnecting a removable hard drive, to run Total Commander with the contents of the pen-drive, automatically unmount an encrypted TrueCrypt drive before disconnecting the USB media, etc.
USB Safely Remove has a powerful and convenient command line: usr.exe. It allows you to automate work with any devices. For example, you can automatically stop devices according to schedule or in case of any other event. In addition the command line tool of "USB Safely Remove" allows to "return device back". Another important difference between the program and the standard Safely Remove Hardware icon is the possibility to see and stop any kinds of hotplug devices. If USB Safely Remove does not display the device you need, try enabling the "Display all storage devices" checkbox in the program options.
Some kinds of external devices (e.g. SATA drives from Silicon Image), are true hot-plug devices, however their drivers does not support "safe removal" function. Such devices are not displayed in native safe removal tool and can be stopped only via disabling in Device Manager. It is a tiresome way, because it requires many actions to do, moreover you must enable the device manually after you connect it next time. USB Safely Remove allows to stop even such devices, besides it detects automatically what devices must be "safely removed" and what must be "disabled". Also the program enables "disabled" device automatically on its next connection, thus it makes working with the device absolutely the same as with usual device.
Main features:
Displaying what prevent a device from being stopped
Safe removal via hotkeys
The handy menu with device icons
Real device names and ability to rename them
Feature to hide unnecessary to stop devices
Program autorun on device connection\disconnection
Command line for safe removal
Hiding of "empty" card reader drives
Card reader memory cards ejection one-by-one
Returning just stopped device back!
Other features:
System tray icon hiding when there are no devices to be stopped
Displaying volume labels instead of device names
Let you manage drive letters
Ability to mount storage devices as a NTFS folder
Exploring device drives in an alternative file manager (e.g. Total Commander)
Let you prevent Windows from assigning a specified drive letters to hot-plug devices
Latest Changes:
The program device scanning mechanism was optimized for speed. Now the program scans for hardware changes more quick while loads the system less.
Correct version info added to all program modules
The "Apply" button in the options is enabled only if you change some settings
Bug fixed: Command line "forcedstop" command didn't work
Some small memory leaks were fixed
Bug fixed: The program could hang on device insertion in some cases
Bug fixed: The "Apply" button in the options may not apply changes in some cases
Bug fixed: Autorun doesn't run some DOS commands (e.g. pause, net)
Bug fixed: An error might happen after device settings export
Version 5.2 (Released on Mar 12th, 2013)
[+] Option to fix several drives to the same drive letter added
[+] Windows 8 support & Metro UI skin
[*] A special sign is displayed for fixed drive letter in the menu
[*] Folder mount points are now displayed in full size (not truncated as earlier)
[*] Verbose logging was enabled by default
[*] Card reader drives are displayed even when the option "Display storage device
volumes" is disabled
[*] Skin scheme file now has usual web format of the colors
[-] "Extend license" menu item could display "Order" page rather than "Extend"
[-] Autorun programs called before changing drive letters (e.g. for fixed
drive letters). This caused double calling of the autorun programs.
[-] The device menu might be displayed when user launched TaskManager (Win 8)
or Customize tray icons dialog (Win 7, 8)
[*] The SATA system drive was displayed in the list by default. Now it's
displayed only when you enable the option "Display all storage devices"
[*] Now the program doesn't add itself to the Windows startup on each launch,
it does this when it's needed.
Remark: Hidden Mode is enable. Plug in USB only shows.
6 November 2011 – Fixed installer won't ask for enable disconnect the usb power. Power disconnect is enable in windows 7. Hope it works.
8 March 2012 – Now working with 64bit windows.
13 Jan 2015- replace with older working version. New version fail to creat silent mode.
(Cracked Repack)
(Chinese Version)