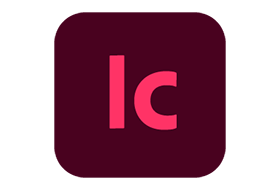 Adobe InCopy 2022 software is a professional writing and editing solution, that tightly integrates with Adobe InDesign software. It enables a parallel workflow between design and editorial staff, precisely fit copy to layout, and efficiently meet editorial deadlines.
This Adobe software is designed to scale to the needs of small, medium, and large content publishers. You will be able to deliver content that will support both print and digital publications, thus simplifying the process of designing unique content for several audiences.
Adobe InCopy 2022 includes workflow technology that enables designers and editors to work on the same InDesign document simultaneously without interfering with each other's work.
With Adobe InCopy 2022, writers, editors, and designers can work simultaneously on a single document without overwriting each other's contributions. Now with support for Retina displays, new ways to find fonts quickly, and other features to help you work smoothly.
The Adobe InCopy 2022 software has three viewing modes: Story mode, Galley mode, and Layout mode. The Story mode is for text reading and editing in a screen-wide, word-processor view without the publication page formatting.
The Galley mode view displays the text in a word processing view without page formatting but with line numbers and the same line breaks as in the layout. Both Galley and Story views reveal text that is overset in Layout view, and show the names of the style sheets applied to the text; but do not display the actual formatting. The Layout mode shows the true page design layout displaying every format applied to the text and all the images.
Adobe InCopy 2022 Features:
Parallel collaborative workflow. Adobe InCopy integrates tightly with Adobe InDesign to let writers, editors, and designers work simultaneously on a single document without overwriting one another's contributions.
Modern UI. Adobe InCopy has a sleek new look. Now you control the brightness of the user interface so you can see your layouts more clearly.
HiDPI and Retina display support. From text to complex artwork, every element of your design will have greater clarity and vibrancy thanks to support for the high-resolution Retina display on the new MacBook Pro.
Font search enhancements. Find the perfect font – fast. Search for any portion of a font name. Mark your favorites to display only those fonts. Quickly find the right font for your layout by using the arrow keys to browse through fonts and see each one applied to your selected text.
Flexible page views. Edit in the view most suited to your current task. Galley View displays 100% accurate line breaks. Story View gives you faster word processing. And Layout View lets you edit text in context.
Precise copyfitting. View copyfit information as you work. Constant visual feedback shows you how much space remains – or how far you're overset. You can easily track story depth, as well as line, word, and character counts.
Sync Fonts. Sync Fonts (part of Creative Cloud) will change the way you work with type. Quickly find the perfect font from the growing library of Adobe Typekit fonts, sync it to your system, and have it immediately available for use.
Sharing with Adobe Creative Cloud. With the Save to Cloud command, your files (including layers) are accessible on any device. Share them with team members or clients. Changes are tracked, so you can always access previous versions.
What's New in Adobe InCopy 2027 Build 17.0:
Inclusive terminology. To support core Adobe values of diversity and inclusion, the term Master page has been replaced with Parent page.
Scalable user interface. Scale the size of InCopy UI on high-resolution screens to suit your display needs.
System requirements
Windows 10 (64-bit)
Supported on Windows 10 versions 1809, 1909, 2004, 20H2, 21H1.
Special thanks to @vposy release.
(Preactivated Installer) x64