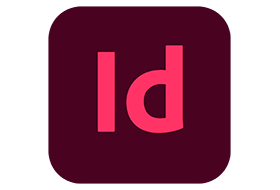 Adobe InDesign 2022 software provides precise control over typography and built-in creative tools for designing, preflighting, and publishing documents for print, online, or to mobile devices. Include interactivity, animation, video, and sound in page layouts to fully engage readers.
Adobe InDesign 2022 lets create beautiful page layouts for alternate page sizes or devices. Efficiently design for print, tablets, and other screens. Integrate with Adobe Digital Publishing Suite to publish interactive digital publications for tablets.
Design a rich array of interactive documents from digital brochures, to eBooks to interactive magazines. Quickly create stunning print work using a variety of productivity and production tools including simplified object selection and editing, Live Preflight, PDF export in the background, custom print presets and more. Export your documents as SWF for playback in the Flash player or interactive PDF.
Adobe InDesign 2022 is faster, sharper, more connected. Under-the-hood improvements and native 64-bit support make working on even the most complex documents speedier. And now, you can share work directly from InDesign and get access to new features the moment they're released. Your entire creative world, together in one place. Only in Adobe Creative Cloud.
Adobe InDesign 2022 ensures new performance boosts, including 64-bit support. Offers Retina display support, QR code creation, better EPUB files, a sleeker UI, and the Adobe Exchange panel in Adobe InDesign. With this software your creative process becomes seamless, intuitive, and more connected.
Adobe InDesign 2022 Features:
Faster performance. Under-the-hood improvements throughout Adobe InDesign keep you working quickly and smoothly. Harness all of your system's RAM with native 64-bit support. See the greatest improvements in speed and stability when printing and when exporting PDF and INX files.
Modern UI. Adobe InDesign has a new look. Because the updated user interface is consistent with Adobe Photoshop and Illustrator, it's easier to work across your Adobe applications.
HiDPI and Retina display support. From text to complex artwork, every element of your design will have greater clarity and vibrancy, thanks to support for the high-resolution Retina display on the new MacBook Pro.
Sync Fonts. Sync Fonts will change the way you work with type. Quickly find the perfect font from the growing library of Adobe Typekit fonts, sync it to your system, and have it immediately available for use.
Font search and filter. Find the perfect font – fast. Type any portion of a font name, such as "bold," "semicondensed," "italic," or any part of a font family name, and see only the fonts that match your criteria.
Instant font preview. Quickly see how different fonts look in your layout. Use the arrow keys to browse through fonts and see each one applied to your selected text. When you find the best fit for your design, just click its name or press Enter to make your choice.
QR Code Creator. Create crisp, clear QR codes right within InDesign. You can resize vector codes without compromising quality and copy them into applications like Illustrator. At any point, you can edit the QR code directly within InDesign.
More Features:
Print publishing. Print long and short documents directly to a desktop printer or as PDF files for professional printing. Work efficiently thanks to Adaptive Design Tools, productivity tools, and more.
Digital publishing. Create many kinds of digital documents. Develop sophisticated content for popular tablets by pairing InDesign with Adobe Digital Publishing Suite. Design eBooks for popular devices, including Kindle and Nook. Export interactive layouts as SWF or PDF files.
iPad apps without coding. Create iPad apps without writing code. Access Digital Publishing Suite, Single Edition (part of Creative Cloud) from within InDesign and use familiar tools to develop iPad apps.
Preflight and production tools. Speed up production and reduce errors with live preflighting of print and digital documents, document-installed fonts, background PDF export, JDF technology, and PDF/X export.
Robust text composition. Create sophisticated text with precise typography. Efficiently design type with styles, text wrap, the Paragraph Composer, OpenType support, drop caps, style mapping for EPUB export, and more.
Automation. Create powerful automated workflows using standards-based XML features to lay out pages with text and images. Incorporate database-driven content to publish across channels.
EPUB enhancements. New features make it easier to produce high-quality EPUB files from Adobe InDesign CC. You have greater control over the table of contents and CSS export, and CSS editing is simpler. You can also map object styles to tags so they export appropriately.
Persistent text-frame fitting. Set frames to automatically resize to fit your text, based on simple parameters. With persistent text-frame fitting, frames expand and shrink dynamically as you edit headlines, callouts, or other variable content.
PDF forms within. Design PDF forms without leaving InDesign. You can add interactive form fields, and even assign the tab order using the Articles panel, before you export your document to PDF.
What's New in Adobe InDesign 2022 Build 17.0:
Stability and performance
[macOS only] Intermittent crashes on quitting InDesign.
[macOS only] Intermittent crashes while adding or replacing fonts.
[macOS only] Crash while opening some specific documents.
Intermittent crashes while opening documents containing placed PDF.
Crash while loading few external plugins.
Crash on launch on some machines.
[macOS only] Intermittent crashes while rendering document.
Crash when opening a document in high quality display mode.
Crash when working with documents having Type1 fonts.
InDesign becomes non-responsive while moving text frames with tables and other objects on the pasteboard.
Lag in performance with a full CJK variable font.
 Improvement to new features
Browser shows an incorrect display of strikethrough applied to vertical text when sharing document for review.
Design axes of Variable fonts flagged as hidden are visible in the UI.
User Experience
Incorrect translation of "Use typographic quotation marks" in Czech locale.
Opening the new document dialog a second time in Touch workspace switches active workspace to Essentials.
Production
In some cases, text with Variable font applied generates incorrect output in the exported PDF.
SVG Fonts appear as improper output (CMYK) in the exported PDF from InDesign.
Core feature and workflow
PNG files with transparent background show a black background.
Pressing shortcut key T switches to the text tool briefly and then switches back to the previous tool.
Export to PDF destination folder changes after using Share for Review.
Same font is listed more than once in the Find Font menu.
InDesign permits access of the same file simultaneously by different users.
Characters do not render properly for some Japanese Variable fonts.
[macOS only] Shortcuts do not work when Home screen is off.
[macOS only] Unicode characters do not display properly in CC Libraries panel.
[Mac ARM only] "Browse in Bridge" launches Creative Cloud Desktop Application instead of Bridge.
Documents created in Touch workspace with iPad Landscape and Portrait presets have incorrect orientation.
The widget to change Variable Fonts design axes gets disabled on opening the Font menu dropdown from Control panel.
Text of EPS files disappears in high quality display mode.
Tag markers overlay the tagged Thai text making it difficult to read in the story editor.
Pasting URL containing diacritics results in an unreachable URL.
Note: Refresh the hyperlink if found in legacy documents.
Error while saving InCopy assignment files on the network.
Some pages go blank for documents having multiple footnotes.
Scripting
"Script Editor" application does not open when user tries to edit the AppleScript with 'scpt' extension from Scripts Panel.
Windows 10 (64-bit)
Supported on Windows 10 versions 1809, 1909, 2004, 20H2, 21H1.
Special thanks to @vposy release.
(Preactivated Installer) x64