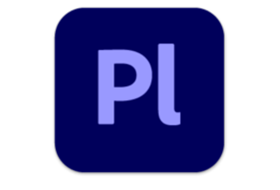 Adobe Prelude 2022 is a transcoding and tagging video production software. It is designed for intuitive, efficient metadata entry, that lets you tag and transcode video footage rapidly. ess.
Streamline your production process, get organized, and work faster using more connected tools. An interface is designed specifically for video ingest and logging workflows.
Speed up your video ingest and logging tasks with flexible new ways to enter metadata in Adobe Prelude 2022. Preview clips and create rough cuts that open directly in Adobe Premiere Pro to keep your production vision intact and accelerate the editing process.
You can find the clip you need quickly with searchable metadata. Add metadata in real time with keyboard entry, during ingest with custom templates. Or directly from a script created or edited in Adobe Story.
Adobe Prelude 2022 gives you access to ongoing updates as soon as they're released. And it integrates with other Adobe video tools for smooth start-to-finish video production.
Adobe Prelude 2022 is part of Creative Cloud. That means you have access to all the latest updates and future releases the moment they're available. You also get a more intuitive way to share files with Save to Cloud. Sharpen your skills and master new tools with a rich library of training videos. And with Behance integration, you can share your projects and get immediate feedback from creatives around the world.
Adobe Prelude 2022 Features:
Transcoding to multiple formats. Transcode files to your preferred formats as you ingest clips. Simply set up a primary destination folder and format. Add more destinations and their corresponding formats, and then click Ingest.
Full or partial clip ingest. Start working faster by ingesting clips in full, or just the portions you want, to save time and reduce storage needs. Set the in and out points right on the clip thumbnails. Adobe Media Encoder will create a new clip from the marked range.
Fully searchable metadata. Find the clip you need quickly with searchable metadata.  Even among terabytes of footage. Add metadata in real time with keyboard entry, during ingest using custom templates.
Heads-up logging. Speed up your logging workflow with a streamlined interface and intelligent keyboard control. Preview clips and log temporal markers and other searchable metadata while keeping your eyes on the footage itself.
Thumbnail hover-scrubbing. Hover-scrub thumbnails in the Project panel. Just move your cursor over the clip to preview it.
File renaming on ingest. Set up your own filename presets to automatically rename files upon ingest so you can search and find files more easily.
Rough cut export. Share rough cuts faster by exporting directly to Adobe Media Encoder from Prelude. You can also choose to send to Adobe Premiere Pro for final editing.
Custom metadata on ingest. When you create the rules, you get exactly the metadata you need. Prelude lets you create custom metadata templates. Therefore collecting key information becomes an easy and consistent part of the ingest workflow.
Script scenes as metadata. Working with scripts created in in Creative Cloud, you can drag and drop scenes to link them with footage as searchable metadata. Search with word-specific accuracy thanks to speech transcription markers that stay with your footage throughout the production workflow.
What's New in Adobe Prelude 2022 22.0:
Supported Operating Systems:
Microsoft Windows 10 (64-bit) version 1903 or later
Special thanks to @vposy release.
(Preactivated Installer) x64