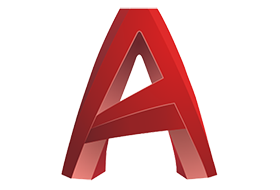 AutoCAD® is computer-aided design (CAD) software that architects, engineers, and construction professionals rely on to create precise 2D and 3D drawings.
Draft, annotate, and design 2D geometry and 3D models with solids, surfaces, and mesh objects
Automate tasks such as comparing drawings, adding blocks, creating schedules, and more
Customize with add-on apps and APIs
AutoCAD 2021 enables you to create and explore ideas like never before. It is all you need to create, visualize, document, and share your ideas. Import a wide variety of other formats including SolidWorks, Pro/ENGINEER, CATIA, Rhino, and NX. Drawing views, edge display, and location are instantly updated when an engineering change is made.
The drafting, detailing, and conceptual design leader is showing the way once again. AutoCAD 2021 propels day-to-day drafting forward with features that increase speed and accuracy while saving time. Annotation scaling and layer properties per viewport minimise workarounds, while text and table enhancements and multiple leaders help deliver an unmatched level of aesthetic precision and professionalism.
Document. Create your designs more intuitively, more efficiently, and faster than ever before.
Communicate. Present and share your designs more seamlessly, more accurately, and more powerfully.
Explore. Now you can turn ideas, regardless of shape or size, into a 3D CAD model to help take your designs further.
Customize. Make AutoCAD software work for you in ways you never thought possible.
Create stunning designs and improve collaboration
Share your work with TrustedDWG technology.
Work across connected desktop, cloud, and mobile solutions.
Get the AutoCAD 360 Pro mobile app when you subscribe.
Autodesk AutoCAD 2021 highlights:
Create and share precise drawings with innovative productivity tools.
Save time and minimise frustration with simple tools to fix broken paths for externally referenced files.
Use the SHX text recognition tool to quickly convert imported PDF geometry to text objects.
Experience significant improvements in 3D navigation when zooming and panning.
Take the power of AutoCAD with you wherever you go with an easy-to-use mobile app.
System Requirements
Supported Operating Systems:
Windows 7, 8.1, 10 (32-bit, 64-bit).
CPU
Basic:2.5–2.9 GHz processor
Recommended:3+ GHz processor
Multiple processors:Supported by the application
RAM:
Basic: 8 GB / Recommended: 16 GB
Display Resolution:
Conventional Displays:1920 x 1080 with True Color
High Resolution & 4K Displays:Resolutions up to 3840 x 2160 supported on Windows 10, 64-bit systems (with capable display card)
Disk space:6.0 GB
AutoCAD2021简体中文版:
http://trial2.autodesk.com/NetSWDLD/2021/ACD/9046B381-E756-4D38-A7EF-FAD07F4456E6/SFX/AutoCAD_2021_Simplified_Chinese_Win_64bit_dlm.sfx.exe
AutoCAD2021繁体中文版:
http://trial2.autodesk.com/NetSWDLD/2021/ACD/4E66C052-5E85-44E6-830E-542B29E6CEE0/SFX/AutoCAD_2021_Traditional_Chinese_Win_64bit_dlm.sfx.exe
AutoCAD2021英文版 ENGLISH:
http://trial2.autodesk.com/NetSWDLD/2021/ACD/80A03A2D-8FA9-43FD-9B26-1604CAD1D9CF/SFX/AutoCAD_2021_English_Win_64bit_dlm.sfx.exe
Password = CyberMania