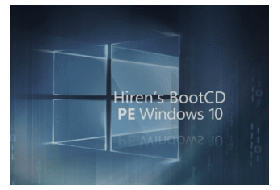 Hiren's BootCD PE (Preinstallation Environment) is a restored edition of Hiren's BootCD based on Windows 10 PE x64. Since there are no official updates after November 2012, PE version is being developed by Hiren's BootCD fans. It contains the fewest but best free tools. It is being developed for the new age computers, it supports UEFI booting and requires a minimum of 2 GB RAM.

With the useful tools inside of the CD, you can fix many problems related to your computer. It does not contain any pirated software, it contains only free and legal software.
After boot, PE version tries to install drivers like graphics, sound, wireless and ethernet card for your hardware. So that you can connect to a WIFI or Ethernet network. Please Contact Us with your hardware model if your WIFI or Ethernet card is not recognized by the PE version. We will try to add the required drivers in the new releases.
The official releases still exists on our Old Versions page. Please check About page for more info.
Hiren's BootCD PE x64 (v1.0.2)
BCD-MBR Tools
BootIce v1.3.3
EasyBCD v2.3
Hard Disk Tools – Data Recovery
CheckDisk GUI v0.3.1
Lazesoft Data Recovery v4.0.0.1
Puran Data Recovery v1.2.0
Puran File Recovery v1.2.0
Recuva v1.53.0.1087
DMDE v3.8.0
ReclaiMe build 3475
PhotoRec v7.2
Unstoppable Copier v5.2
Hard Disk Tools – Defrag
Hard Disk Tools – Diagnostic
GSmartControl v1.1.3
HDDScan v4.1
HDTune v2.55
WD Data Lifeguard Diagnostics v1.37
Crystal Disk Info v8.12.2
Test Disk v7.2
Hard Disk Tools – Imaging
Acronis TrueImage 2021 build 39216
AOMEI Backupper v6.5.1
Lazesoft Disk Image & Clone v4.0.0.1
Macrium Reflect PE v7.3.5925
Runtime DriveImage XML v2.60
Hard Disk Tools – Partition Tools
AOMEI Partition Assistant v9.2.1
Macrorit Partition Extender v1.5.0
Macrorit Partition Expert v5.6.1
DiskGenius v5.4.2.1239
EaseUS Partition Master v14.5
Hard Disk Tools – Security
HDD Low Level Format Tool v4.40
Eraser v6.2
Windows Recovery
Lazesoft Windows Recovery v4.0.0.1
Other Tools
FSViewer v7.5
Free Office rev 703
Sumatra PDF v3.2
7-Zip v21.02
ExamDiff Pro v12.0.1.1
HxD v2.5.0
Notepad++ v8.1
WinMerge v2.16.12
VLC Media Player v3.0.16
Removable Drive Tools
CDBurnerXP v4.5.8.7128
Rufus v3.14.1788
Security – AntiVirus
ESET Online Scanner v3.5.6
Malwarebytes Anti-Malware v2.2.1.1043
McAfee Stinger v12.2.0.268
Kaspersky Virus Removal Tool
Security – KeyFinders
ProduKey v1.97
ShowKeyPlus v1.0.7060
Security – Passwords
Lazesoft Password Recovery v4.0.0.1
NT Password Edit v0.7
Windows Login Unlocker v1.6
System Tools
CPU-Z v1.96
GPU-Z v2.40
HWInfo v7.04-4480
Speccy v1.32.774
WinNTSetup v4.6.3
Attribute Changer v10.0
Change Keyboard Layout v1.0.0
Dependency Walker v2.2.6
Registry Backup v4.0.0
Regshot v2.0.1.70
SysInternals Suite
PowerShell Core v7.1.3
Network
Aero Admin v4.7
Acrylic Wi-Fi Home v4.5.7802
Chrome v91.0.4472.106
Mozilla Firefox Quantum ESR v78.11.0.7821
PENetwork v0.59.0.B12
Hiren's BootCD PE x64 v1.0.2 (1 July 2021):
Hiren's BootCD PE Windows 10 core has been updated to version 21H1 (build 19043.928).
195 new drivers have been integrated at the IO, Network and Storage categories.
Almost all utilities have been updated.
New added utilities: DMDE, ReclaiMe, PhotoRec, Unstoppable Copier, Test Disk, Crystal Disk Info, DiskGenius, EaseUS Partition Master, Macrorit Partition Expert, Eraser, VLC Media Player, McAfee Stinger, Kaspersky Virus Removal Tool, Windows Login Unlocker.
Removed utilities: Runtime (GetDataBack for FAT, GetDataBack for NTFS, GetDataBack Simple, NAS Data Recovery, RAID Reconstructor, RAID Recovery for Windows, Captain Nemo, DiskExplorer for FAT, DiskExplorer for Linux, DiskExplorer for NTFS), CCleaner, Teamviewer.
Download:
https://www.hirensbootcd.org/files/HBCD_PE_x64.iso
| | |
| --- | --- |
| Filename | HBCD_PE_x64.iso(Thanks to all our Supporters for providing fast and reliable mirror servers) |
| Filesize | 2.88 GB (3099203584 bytes) |
| ISO MD5 | BEC7304FE2EB11DE495B9EA7B73C38AA |
| ISO SHA1 | EC7D4EC02A8772A4ECAEE59A9095D65B043AA77D |
| ISO SHA-256 | 8281107683E81BE362AFD213026D05B2219BC6A7CA9AF4D2856663F3FFC17BFD |