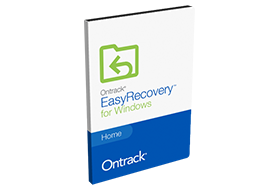 Whether you've accidentally deleted precious family photos or lost them due to a hard drive crash, Ontrack EasyRecovery can recover your data.
Leading computer publications and experts consistently rank Ontrack EasyRecovery best-in-class. Its intuitive interface allows novice to expert users to recover data with minimal effort.
Ontrack EasyRecovery Version 15 is the best yet!
Version 15 includes the following enhancements:
Usability improvements throughout the application

Many new file formats added to preview to give user confidence
Preview recoverable video files with the ability to see the video on full screen mode
Preview recoverable content in ZIP and Archive Files

4K sector support
Dual monitor support
Get your data back.
Ontrack EasyRecovery allows you to perform precise file recovery of data lost through deletion, reformatting, and a number of other data loss scenarios.
Recovers from SSD and conventional hard drives, memory cards, USB hard drives, flash drives as well as optical media.
Recover files from corrupt, damaged, deleted or reformatted drives
Works with internal and external drives; SSD, RAID, USB, memory cards and optical media
Repairs damaged and corrupt photo and video files
Download now and try it free before you buy
Comprehensive Data Recovery
Search within a logical volume by name or file type. Recover data from internal or external hard drives, optical discs, and more.
Quick Scan and Deep Scan
Scan hard drives and other devices fast for quick recovery. Or, choose "Deep Scan" for an extensive search.
Advanced RAID Recovery
Recover lost or missing data from corrupt or inaccessible RAID 0, 5 and 6 volumes.
Recover photos, videos and more.
As the world's leading data recovery provider we've helped hundreds of thousands of customers recover their data. With the development of Ontrack EasyRecovery for Windows, you can rely on our expertise to quickly recover your documents, photos, videos, and other critical files.
Ontrack EasyRecovery recovers hundreds of file types from the most commonly used programs. But if you've lost files created by unique software programs add your sample files and start the recovery process.
Remark: no idea who release…. credit to his release….
Professional
(Silent Repack) x64
Technician
(Silent Repack) x64
Premium
(Silent Repack) x64
Toolkit
(Silent Repack) x64