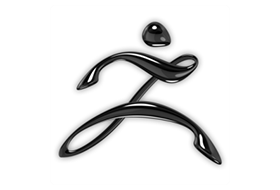 ZBrush continues to expand on creative freedom with a focus on model topology and detail creation. These new features were developed to let you be an artist first and foremost, giving you more freedom to explore new ideas! The following two movies illustrate some of the things that you can now accomplish when you harness the power of ZBrush 4R6. We hope you enjoy them! More information about these and other new features can be found below.
ZBrush empowers artists with greater sculpting flexibility via powerful additions to the award winning brush system. We have expanded the library of sculpting brushes with the new XTractor, HistoryRecall and DecoCurve brushes. In addition, you can now constrain your brush strokes to only forward gestures with the new No Back&Forth modifier.
Beyond the new brushes we've expanded the capabilities of the MorphUV feature, which makes it possible to view the unwrapped UV layout of a model within ZBrush. Sculpt & Paint in Morph UV allows you to sculpt and paint on the 2D unwrap of a model, applying all updates to the 3D model.
Sculpt & Paint in Morph UV
Now with the ability to sculpt and PolyPaint on the UV unwrap of a model, it's never been easier to apply long continuous strokes across a mesh. One such example would be applying a stroke from the waist up through an armpit to the wrist of a character. Or perhaps you wish to apply a pattern on a mesh that is too complicated in the 3D form.
Have you ever had a difficult time reaching certain areas of a sculpt? With Sculpt & Paint in Morph UV, that is a thing of the past!
XTractor Brushes
These three brushes convert detail from your model into a new alpha or texture for future reuse. Simply drag your stroke across the surface of any model to capture the details of your sculpt. The captured details can then be used elsewhere on the same model, or on any other model in the future.
HistoryRecall
Have you ever wished you could undo just a portion of your sculpting without losing everything else that has been done on the model? Now you can! This brush uses your model's Undo History but restricts the effect to the area where the brush is used. It can also be used in the other direction, projecting Redo History from part of one model to another regardless of any topology differences.
Move Infinite Depth
Alter your brush to apply details to anything that is directly inline with the brush cursor. For example, add volume to the front and hind legs of a dog or move several vertex points on multiple individual meshes without applying a mask. The infinite depth option can be applied to several brushes.
You Can't Pick Just One Color
Never again will you struggle contemplating what color combination to apply to a model. Now you can take any PolyPainted or textured model and adjust its color hue, intensity, contrast, gamma or tint on the fly using the new Texture Adjust by Color and PolyPaint Adjust by Color features.
Texture Adjust by Color & PolyPaint Adjust by Color
Texture Adjust by Color & PolyPaint Adjust by Color not only gives you the power to adjust the colors in a model's PolyPaint or Texture Map, it also allows you to restrict these adjustments to specific color selections. In addition you can use color picking to mask or unmask portions of the model.
Ready, Set, Analyze & Print
ZBrush 2020 continues to widen your ability to 3D print straight from ZBrush with new mesh analysis features: Wall Thickness, Real-Time Draft Analysis and Surface Area calculations. Now anyone will be able to easily prepare a model for production!
2022.0.6 Update Notes
Fixed:
A problem preventing the W key from toggling between an active Deformer and Gizmo3D mode.
Mesh from Mask brushes now respect Transparency/Ghost mode when evaluating the surface
Crash with the Curve Alpha brushes when deleting a stroke
Issue preventing IMM brush set to vary between meshes from changing to the next mesh if Ctrl is held
Issue causing a mesh to split into separate pieces when a Sculptris Pro brush is used on a mesh partially hidden by the Selection Lasso
Alpha> Make3D now correctly sees the entire range of values in the alpha
Apply Displacement Map failures on meshes above a certain point count
IMM Multi-Curve ignoring the curve modifier profile when updating the stroke
Brushes could not overwrite polypaint with 100% white at 255, 255, 255 RGB values
Masking marquee preview not updating correctly in some situations when cycling modes with the Ctrl key.
ZBrush now respects RMB/LMB switching settings in warning pop-ups
Issue with Stager not keeping accurate form in certain situations
Issue with Stager not keeping accurate scale in certain situations
macOS: in file saving dialogs the format selection would not override a visible extension in the name field
Modified:
Sculptris Pro mode is not intended to be used with the Contrast Target and Contrast Delta brushes. It has been disabled for those brushes.
USD export has been updated to improve Omniverse support: specifying Subdivision surface when Dynamic Subdivision is used in ZBrush and Mesh visibility when all subtools are exported.
Added:
GoZ support for Maya 2023 and 3DS Max 2023
(Cracked Silent Install Repack) x64