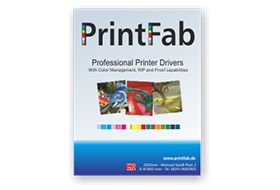 Why did we develop PrintFab? Of course you can often achieve good results with manufacturer-supplied printer drivers. However, if you print the same photo on different printers, you will discover that these prints are not identical but show quite different colors!
One reason for this is that each driver tries to "beautify" printouts by increasing contrast and color saturation etc. Advanced users might not be satisfied with with color balance, color gradients and the reproduction of fine nuances.
Improve your prints
PrintFab addresses advanced users and is designed to produce well-balanced printouts with natural colors. Of course you can still individually adjust brightness, contrast, luminosity of colors etc.
Highlights of PrintFab:
Calibrated prints and colors
The integrated color management makes sure that printouts are not just rendered colorful and over-sharpened but the document's colors will be reproduced accurately. Thus you will get almost identical colors of the same document printed on different printers or paper (within the technical limitations of each printer and paper).
Color matching for paper and ink
PrintFab comes with integrated color profiles for a range of commonly used printer papers. With our color profiling service you can achieve best results with any type of paper or even third party ink!
Precise color management
PrintFab's color management meets the highest demands – with appropriate printers PrintFab can produce proof prints with exact colors that are suitable as a reference for offset printing.
Print Preview
Check the print layout and verify or change print settings before sending a job to the printer. With PrintFab Home L and higher, you can even preview printed colors on-screen (softproof).
Layout Editor
You can scale, crop and move page contents, delete or add pages of your print job. Further you can also cut out snippets and combine them on a new page – this can be convenient when printing web pages where you may want to remove ads or navigation buttons.
PrintFab Pro with advanced features
The edition PrintFab Pro can print like a RIP software (Raster Image Processor): With the CMYK mode and a suitable ICC profile for offset printing (e.g. "Fogra ISO Coated"), PDF documents intended for a print house or online print shop can be "proof printed" which means that colors of the printing process are simulated.
(Installer with license) x86