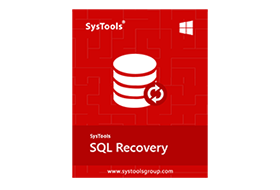 SysTools SQL Repair Tool is an advanced tool which helps to repair corrupt MDF and NDF SQL server database files. It has the potential to recover deleted records from database tables without losing a single bit of data. DSQL Recovery tool lets you recover multiple NDF database file and directly export into SQL Server Database.
Main Features:
• Quick & Advanced Scan To Repair SQL Database : Both Primary & Secondary
• SQL Recovery Software will Recover Deleted SQL Server Database Table's Data
• Scan & Recover Multiple NDF Files (Secondary Database)
• Scan & Recover Triggers, Rules, Functions, Tables, Stored Procedures
• Export File into SQL Server Database or as SQL Server Compatible Scripts Using SQL Database Repair Tool
• Auto Fetches SQL Server Name while Exporting to SQL Server Database
• Desired Items Selection to Save File with Schema or Schema & Data Both
• Option to preview deleted records in red colour
• Support ASCII and Unicode XML (NEW!)
• Recover SQL Server 2017, 2016, 2014, 2012, 2008 / 2008 R2, 2005, 2000 Database Files i.e. MDF / NDF
• Recover data from Wallet Ransomware affected .mdf files.
SQL File Recovery
SQL Recovery Software is useful utility to recover all tables, stored procedure, functions, views, rules, triggers and associated Primary Key, Unique keys, data types & all other components of SQL Database.
Two Mode To Repair SQL Database
SQL database recovery software offers you two scanning modes. Select Quick scan option for normal database corruption and Advance mode for severe database file corruptions.
MDF & NDF File Recovery
You can recover the primary and secondary database i.e. MDF and associated NDF files. The MDF Recovery software will scan both these files and recover the deleted table's data as well. You can also preview all the components in it.
Recover Deleted SQL Table's Data
There are possibilities that you might have deleted some of the SQL table's either accidentally or unknowingly. In that case, SQL database repair tool will help you to recover most of the deleted SQL database table's
SQL 2016 / 2017 Database Recovery Export
The software offers support to the latest in market, SQL Server 2016 version. You cannot only recover SQL Server 2017, 2016 , 2014 database but can also further export it into SQL Server Database of version 2016 & 2014
Supports Primary / Foreign Key
SQL Recovery Tool provides support for the recovery of keys along with database tables. Both; Primary as well as Foreign Keys are supported after database export performed by the software
Supports User Defined Schema
Database tables with standard & user defined schemas are supported and exportable. The MDF Recovery software will support recovery of the database even if the corresponding tables consist of user defined schemas.
Windows 64 Bit OS Version Supported
Being a Windows based application; the software supports all Windows versions including 10. Apart from that, the software also provisions support for both; 32 as well as 64 bit versions.
Option to Save Large File Scan
After scanning of both MDF and NDF files, you can save the scanned file as .str file to desirable location. This will save the scanning time; if the process is closed in between; later you can start over again by simply loading the saved .str file.
Preview Database Components
SysTools SQL Recovery Software will preview all scanned & recovered database items like tables, column, keys, indexes, triggers, procedures, functions with item count in its in-built database viewer.
Auto Detect SQL Server Version
The software is smart enough to auto detect the SQL Server version of MDF or NDF file. But; if you know the actual version SQL Server then it is recommended to check the appropriate SQL Server version manually.
Export to SQL Server Database
This export option is for you; if you want to directly move the files into live SQL Server database. Here you need to provide database credentials like Server name, Database name; Username and password etc. Along with this, the software provides a dynamic 'Collation Setting' feature to export recovered SQL database of any language in respective environment.
Export as Compatible SQL Scripts
As you export files to SQL Server compatible SQL script, a .sql file get created; which you can easily keep on any machine and use to restore data on any SQL Server.
Export Schema / Schema & Data
SQL file repair tool allows you to export the database with only schema of selected tables, procedures etc. Alternatively, you can export the tables with both schema and data in it.
Supports XML Data Type
SQL recovery tool will recover the XML data as well; if you have created columns and variables of the XML type or stored XML documents on a SQL Server database.
Export Selective SQL Files
You can export the selective items from the MDF or NDF file and save it. The MDF Recovery software allows you to check or uncheck the files and folders.
SUSPECT SQL Database Recovery
Avoid the issue of SQL database being marked as SUSPECT with SQL MDF database recovery tool. If you are unable to connect with database due to file SUSPECT error then repair & recover SQL database.
Advance Data Type Support
Now the SQL database recovery tool is supporting the other advance data type to recover from the SQL database, which includes: Datetime2, datetimeoffset, sql_variant, hierarchyid, geometry & geography data types. Moreover ASCII and Unicode XML data types are supported.
System Requirements:
• 10, 8.1, 8, 7 & All Below Versions
• SQL Server: 2017, 2016, 2014, 2012, 2008 R2, 2008, 2005 & 2000
• Windows Server: 2003, 2008, 2012
• 100 MB of free hard disk space required
• 1GHz processor (2.4 GHz is recommended)
• Microsoft .NET framework 2.0 or above
(Cracked Silent Install Repack) x64