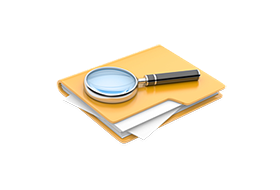 Direct Folders guarantees you quick and direct access to your favorite and recent folders. Jump to any deeply nested folder in a single mouse click.
Direct Folders automatically resizes every standard file dialog, so you can see a larger number of files. Find what you looking for with less scrolling.
One of the many useful features of Direct Folders is its ability to automatically switch the folder views of open dialogs to thumbnails, list or details depending on the application you are working with. You can select your preference of file sort order to be the default as well.
How Direct Folders Works
There are several ways to access Direct Folders. One of the easiest is to simply double click in the empty area of the desktop, Explorer or File Open/Save dialog box, which brings up a menu. Total Commander and DirectoryOpus are also supported.
Select a favorite or recent folder from this menu and the file dialog immediately jumps to that folder. If you activate this menu from the Desktop or tray icon, this folder will be opened in Windows Explorer or another file manager.
Direct Folders actions when the file dialog opens:
Resizes the file dialog box.
Sets the custom files view mode and sort order.
Jumps to the last used folder or any folder you specified [Pro].
Scrolls to the last used file in that folder [Pro].
Pro Version
You can also buy a Pro version of the program with the following features:
Create subfolders in Direct Folders menu.
The Info Panel shows the full path, big icon, date and size of the selected file.
Check each of your drive's free space right from the File Save dialog box.
Set default folder for any application.
Rebound to the last used file in that folder.
(Registered Silent Install Repack) x86