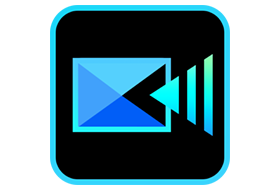 Take Total Control of Your Video Creation Without the Learning Curve. PowerDirector Ultimate provides over 200 powerful video editing tools, whether you are new to video editing or if you are creative pros, you can start your video creation without the learning curve!
Shape Designer (NEW!)
Apply and edit completely customizable vector shapes to your videos, with auto-fit text and keyframe controls. Perfect for YouTubers and video tutorials.
Impressive Motion Graphics & Animated Titles (NEW!)
Combine motion graphic elements with your videos' titles to make them stylish and modern.
1:1 Square Video for Instagram & Facebook (NEW!)
Easily create, edit and produce content perfectly fit for social media. Produce square (1:1) output for Facebook and Instagram. Or edit and save vertical videos, the perfect size ratio for social media Stories.
Nested Projects as Adjustable PiP Objects (NEW!)
Repurpose previous project files in your new ones. Embed them into scenes with keyframe control to scale, skew, rotate & even set opacity.
Audio Scrubbing (NEW!)
Hear audio while dragging the playhead through a project so that you can quickly find the scene you need.
Multi-key Sampling Chroma Key Editing
Perform Hollywood-style green screen editing thanks to an improved chroma key engine and multi-key color sampling.
Advanced Motion Tracking
Ensure 100% object tracking accuracy in your video clips with frame-by-frame motion tracking.
AI Style Transfer
Transform your videos into living artworks thanks to the magic of AI. We've trained our AI Style Engine to analyze footage frame by frame and intelligently apply brushstrokes, so your video looks like it was hand-painted by a master artist.
360˚ Video Stabilization
Shaky video footage is virtually unavoidable when shooting with a 360º camera. Our 360º VR stabilization technology gives you the control to produce mind-blowing VR videos, free of shakes and stutters, in next to no time!
Reversible Timeline Track Order (NEW!)
Switch timeline track order between top-down and bottom-up to suit your workflow.
CPU & GPU Performance Boosts
Don't waste time waiting for your software to respond! PowerDirector supports transcoding of non-full frame video clips in a single timeline track. Also enjoy better performance on 8+ core processors with improved multi-threading.
4K Video Editing Preview (NEW!)
Preview your projects in 4K quality, and see how your video will look like before you produce.
Professional Format & Camera Support (NEW!)
Import and edit video shot on professional-grade cameras and in HEVC & VP9 10bit HDR10 & HLG, ProRes 10bit 4:2:2, XAVC 8bit 4:2:0 and MXF AVC 8bit 4:2:0 video compatibility.
Overview of CyberLink PowerDirector 18 Ultimate Features
Express Video Creation
Action Camera Center
Simplified Color Adjustment
One-click Color Correction
Intelligent Color Match
Color Grading like the Pros
Customizable Design Tools
New Effects – Title Designer
Enhanced – PiP Designer
Enhanced – Theme Designer
New Brush Tool – Masks Designer
Enhanced – Subtitle Room
360 Video Stabilization
True360 View Designer
System Requirements and Technical Details
Supported OS: Microsoft Windows 10, 8/8.1, 7 Service Pack 1 (64 bit OS recommended)
Processor: Intel Core i-series or AMD Phenom II and above
Graphics Processor (GPU):
Standard Video: 128 MB VGA VRAM or higher
360-video: DirectX 11 compatible
AI Plugin: 2GB VGA VRAM or higher. Please see our FAQ for a detailed list of supported graphics cards.
RAM: 2GB required (6GB or above recommended)
Free Hard Disk Space: 10 GB
Remark: 9 November 2019 – Remove some bloatware. Sorry.
(Registered Silent Repack)