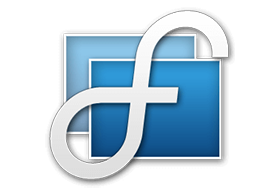 DisplayFusion will make your dual monitor (or triple monitor or more) experience smooth and painless. With DisplayFusion you can add a taskbar to every monitor that works and looks just like the Windows Taskbar. Or take advantage of advanced multi-monitor wallpaper support, Flickr Integration for image searching and fully customizable window management hotkeys. These are just a few of the many things that DisplayFusion can do.
Features:
Multi-Monitor Taskbars
Incredible Desktop Wallpaper
Powerful Functions
Precise Monitor Controls
Useful Windows 8 Tweaks
Window Snapping
Window Management
Window Location
Windows Logon Background
Multi-Monitor Screen Savers
Remote Control
Desktop Icon Profiles
Easy Administration
Available in dozens of Languages
DisplayFusion works with these versions of Windows:
Windows 10, 8.1, 8, and 7 SP1 (32-bit and 64-bit)
Windows Server 2019, 2016, 2012 R2, 2012, and 2008 R2 (32-bit and 64-bit)
v9.7.1 :: 28th Dec, 2020
Change: Website wallpaper now allows local URLs (e.g. file://c:/page.html)
Change: Added a warning to the Edit Hotkey dialog if no modifiers are selected
Change: Increased taskbar shortcut limit from 200 to 500
Change: New Advanced Setting: Remote Control: Security Code Override (for GPO settings)
Change: New Advanced Setting: Image Info Offset
Change: New Advanced Setting: Disable Desktop Refresh on Monitor Profile Load
Fix: Improvements to tray popups (volume, battery, network) on multi-DPI systems (calendar still has issues)
Fix: Improvements to moving windows on multi-DPI setups
Fix: Firefox no longer slow to move to next/previous monitor when maximized
Fix: Taskbar no longer needs to reload if work area needs to be reset
Fix: Resolved an issue with the "Treat Top-Tab Browser Windows as Standard Windows" advanced setting
Fix: TitleBar Button compatibility improvements
Fix: SuperBird browser no longer moves when middle-clicking to close a tab
Fix: Firefox no longer has a gap on the right side if you have left padding enabled in Monitor Config
Fix: Tray icon hidden area no longer has gap between taskbar
Fix: Mouse wrapping should no longer intermittently wrap to wrong monitor edge
Fix: DisplayFusion Photos Screen Saver now works again
Fix: Crash reporting no longer causes DisplayFusion startup issue on some systems/li>
Fix: Monitor selector TitleBar Button no longer closes on its own
Fix: Outlook no longer un-hides from tray when applying DisplayFusion Settings
Fix: Splits no longer re-enable when manually removing them
Fix: Explorer.exe should no longer crash when moving Microsoft Edge (Windows bug, worked around by not removing Edge from the Windows taskbar when it's moved to another monitor)
Fix: Taskbar no longer stays on top of full screen Chrome/Chromium-base browsers
Fix: Thinkorswim main window now gets TitleBar Buttons
Fix: Windows should be less jumpy when moving between monitors with different scaling levels
Fix: Trigger rules now ignore DisplayFusion taskbars and a few other DisplayFusion window types
Fix: Delphi 7 now shows up in Alt+Tab Handler and DisplayFusion taskbar
Fix: Alt+Tab Handler and taskbar no longer show a separate entry for every Edge tab
Fix: Added support for .arw image files as wallpaper images
Fix: Chrome windows that are maximized to splits no longer restore when applying DisplayFusion Settings
Fix: Resolved a Window Position Profile issue with restoring certain windows
Fix: Resolved an issue moving some windows with Functions and Triggers
Fix: Window no longer ignores splits when maximizing via Trigger rule if Shift key is held
Fix: Digital Blasphemy wallpaper provider login now works again
Fix: Resolved monitor configuration error 87 for some cloning setups, and setups where only splits are applied
Fix: Scripted Functions with dialog boxes that are run via TitleBar Button no longer lose focus
Fix: Monitor Profiles no longer slow to load if only changing splits
Fix: Maximized windows on a split monitor no longer extend off the bottom or sides of the monitor
Fix: Edge Chromium top-tabs support for TitleBar Buttons is improved
Fix: Window Position Profile saving for minimized windows is improved
Fix: iTunes no longer hangs with DisplayFusion functions
Fix: Resolved an issue that prevented some monitors from being detected
Fix: Microsoft Teams compatibility fix
Fix: Monitor Config issues resolved (error 1610 and others)
Fix: Taskbar height now correctly detected
Fix: Window Position Profiles are now loaded more quickly
Fix: Window Position Profile compatibility fixes
Remark: I just use an old fx8350 with 27″ monitor. This is for multi monitor user. Update disable. Thanks for moszter sharing. Keygen

3 December 2020 – Use original installer with reg.
(Registered Silent Install Repack) x86 x64