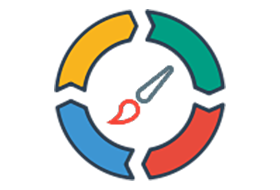 EximiousSoft Logo Designer Pro – The program helps you to create professional while almost any type of website graphics or business graphics for high resolution printing. It is bundled with over 540+ supreme quality logo templates and 5000+ vector graphics symbols gives you inspiration for logo design.
You can easily modify templates by changing texts, colors and shapes or applying filters and effects. You do not need to have any prior expertise in designing for using logo design software. While get an appealing and professional logo in minutes! It offers a full set of expert vector drawing tools to create unique, eye-catching logos. EximiousSoft Logo Designer Pro can import and export various file formats, include SVG, AI, EPS, PDF, PS, JPG, BMP, PNG and TIFF. Output logos to different formats is effective but without any quality loss.
The program is an excellent editor design tools. Using it, you can ease the creation of professional visual effects Logos. First of all, the logo design program built-in 500+ attractive logo templates. When starting a new Logo design from a large number of templates and designs to select a template closest target as modeled, and then start your design journey with only a few modifications. Also, Logo Designer provides 5000+ predesigned Logo shapes and 300+ clip arts. During Logo design, you can easily drag or click the mouse to add it to the current design. With which, you can create any shape graphics by fully vector-based drawing tools. Shapes and texts can be filled or stroked with solid color, gradient colors, images and textures much smoothly. Supports shadow, Refection, Glow, 3D bevel etc. effects.
Features:
Vector Logo Templates & Cliparts
High Quality Logo Templates & Cliparts
Importing & Exporting via Vector
Importing & Exporting
5000+ Vector Logo Shapes Library
Pre-designed 5000+ Logo Shapes Library
Render Logo with Filters
Render Logo with Effects
Node tool for Visual Editing Paths
Edit Path Visually & Freely
Put Text on Curves
30+ preseted distorted style for texts
Smart Layout and Arrangement
Layout and Organization
Homepage: https://www.eximioussoft.com/logo-designer.htm
Release Date: 2020-05-21
OS: XP/7/8/10
Language: Multilingual
Remark: Thanks to Astron Patch.
(Cracked Silent Install Repack) x86