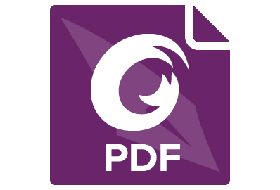 Foxit PDF Editor (formerly) Foxit PhantomPDF is a business ready PDF toolkit to create professional looking PDF documents and forms. You can do that for tasks such as developing personal documents, implementing workgroup collaboration, designing company forms. Produce company collateral, finalizing agreements, applying digital signatures, or document archiving.
Award winning Foxit PDF creator allows you to produce great looking PDF document and forms quickly, affordably, and securely. This is the perfect solution for home/home offices, small and medium sized businesses, and large enterprises. Foxit PDF Editor comes in three versions to fit the diverse use cases that different users require.
This Foxit software can combine, split or repackage various PDF files. The documents can be merged or split based on page numbers, page outlines or bookmarks. Plus, this Suite can batch convert existing documents to a single or multiple PDF files.
Foxit PDF Editor Features
Edit PDF like a pro
Quickly and easily update your own PDF documents. Works like a word processor – reflow text across paragraphs, columns, and pages; change document layout, modify text size, font, or line spacing, and add multimedia.
Share and collaborate live
Connect teammates together to increase flexibility and results. Integrate with leading Content Management Systems, utilize popular cloud storage services, and initiate shared reviews to provide and manage feedback
Export to popular file formats
Easily share PDF content by exporting PDF to Word, PowerPoint, Excel, RTF, HTML, text, and image formats. Export the whole document or just a selected area.
Create PDF docs and forms
Create PDF, PDF/A, PDF/X, and PDF/E from virtually any file format or web pages. Make PDF Portfolios to easily share multiple files together and use Form Field Recognition to quickly create interactive PDF Forms to collect data. Render PRC 3D PDF and create 3D PDF from .DWG files.
Organize PDF the simple way
Organize and manipulate PDF pages to support your workflows. Merge and split documents; drag and drop pages within a file or from one document to another; and add stamps, watermarks, headers, footers, and more.
Protect PDF properly
Protect the information in your confidential documents. Permanently redact and remove text and images, secure documents with password encryption or with Microsoft AIP, sanitize documents, and digitally sign PDFs.
Create accessible PDF
Enable PDF document accessibility for people with disabilities who use assistive technology to have access to information. Check accessibility of PDF files to verify if the document complies with Section 508 technology standards.
Scan and OCR paper docs
Scan and convert paper documents or images to PDF. Run text recognition (OCR) to create selectable and searchable text. Make text editable and update hardcopy just like digital documents.
Highlighted features of Foxit PDF Editor Pro include:
XFA Form Filling. XFA (XML Form Architecture) form allows you to leverage existing XFA forms.
High Performance. Up to 3 times faster PDF creation from over 200 of the most common office file types and convert multiple files to PDF in a single operation.
One Click PDF Creation. Create PDF document with a single mouse click from Microsoft Office applications like Word, PowerPoint, and Excel.
Advanced PDF Editor. Allows you to modify any page contents in any PDF documents, select, insert, change, remove, rotate, copy and paste text, images, graphics and shadings.
Robust Document Security. Use password protection, certificate encryption, and digital signature tools.
Redaction. Permanently remove (redact) visible text and images from PDF documents.
Document Certification. Indicates you approve of its content and allows you to specify the types of changes that are permitted for the PDF to remain certified.
Other features:
Microsoft Active Directory RMS Protector and Policy Manager. Extends the usage control benefits of Microsoft Windows Server Active Directory Rights Management Service to all your PDF documents. And allows the author the control of document features within each PDF.
Form Design. Easy to use electronic forms design tools to make your office forms work harder. Enables you to create or convert static PDF files into professional looking forms. Form data import tools allow data to be automatically imported into a form reducing manual key entering and input errors.
Form Action Creation. Tools allow you to custom javascript actions to gain increased customization options, you can connect to a database for the purpose of inserting new data, updating information, and deleting database entries.
Optical Character Recognition. OCR support to make scanned or image-based PDFs selectable and searchable.
PDF/A Validation. Verify that the document is compliant with PDF/A-1a or PDF/A-1b for long term archiving.
PDF Optimizer. Optimize PDF document to reduce the file size.
High Compression of scanned documents.
Email and Phone Support – help when you need it
New Features and Improvements in Foxit PDF Editor 12.0.0.12394
Offer improved user interface for better usability with new fonts, distinct colors for icons and backgrounds, and more, and better software accessibility for users using keyboard controls and screen readers.
Provide a handy and easy-to-use calculator for users like accountants and tax preparers to do calculations and add electronic calculator tapes to PDFs as annotations, the same way they did on paper. (Pro only)
Improvements in page management

Merge two PDFs by interleaving pages, a useful feature especially when you need to combine two PDFs (scanned from a double-side-printed document), one PDF with all odd pages and the other with all even pages.
Insert web pages into a PDF.
Customize PDF page size with the Resize Page feature.

Enhancements in PDF reviewing or commenting

Export selected comments as an FDF or XFDF file.
Import and export all comments in XFDF format.
Filter and sort comments by color.
Edit and reply to comments from the Comments panel to help users quickly collaborate with reviewers.

Enhancements in PDF portfolios

Add PDFs to PDF portfolios directly from a scanner, web pages, and the Windows clipboard.
Edit component files' names and descriptions, as well as field values (the fields you manually added in portfolio properties) directly within a portfolio.
Convert multimedia files in a PDF portfolio to PDF. (Pro only)

Enhancements in watermarks

Get the username from the currently logged-in user and use it in a watermark when creating watermarks.
Tile watermarks in a PDF, i.e. create a tile effect of a watermark that spans the entire PDF page by tiling multiple lines of text/images.

Add a Search box in the Preferences dialog box to enable you to find a preference option quickly.
Edit image objects outside Foxit PDF Editor using another editing application like Microsoft Paint.
Export multiple PDF pages to one long picture, and support more advanced settings when exporting PDF to images.
Convert Excel comments to PDF note comments during PDF creation from Excel files.
Provide more options for enhanced PDF optimization, and allow you to predefine and save custom optimization settings.
Enhanced ECM Integration:

Set a cloud storage solution (like iManage or NdOffice) as the preferred Save As location to quickly save documents to cloud storage.
Provide "Save as New Version" and "Email as PDF" options in the right-click context menu of files in iManage DeskSite for streamlined document workflows.

Enhance EUTL certificate verification by providing the qualified information of EUTL certificates (EU legal information).
Create more than two linked cross-references in one group of cross-references.
Revert a PDF file to the previously saved version.
Enhance the 3D view to display cross-sections of 3D objects, and allow users to configure the cross-section properties and camera properties.
Now supports viewing two documents side by side in the same window to review and compare documents conveniently.
Provide more pre-designed templates for PDF creation.
Split Foxit eSign and Ink Sign to two separate functions in the Ribbon, to better guide users for the required signing functions.
Able to set DPI value when trying to OCR documents, to control the conversion quality.
Option to embed fonts after document editing, to support embedding fonts in the document for further editing.
More options for document conversion, from HTML/image/Excel to PDF.
Support deployment of the software in Microsoft Intune environment.
Allow users to update to latest version without admin rights via in-product update.
Other enhancements to the user experience.
Special thanks Soda120 (nsane) release

(Cracked Silent Install Repack) x86 MULTILANGUAGE