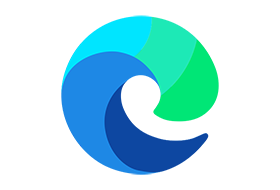 Microsoft Edge is a lightweight web browser for Windows, Android and iOS. It gives you one continuous browsing experience across your mobile devices to your Microsoft Windows 10 PC.
Your stuff syncs in the background, allowing you to browse across devices, without skipping a beat. It has new features, including integration with Cortana, annotation tools, and a reading mode.
You can view your favorites, reading list, browsing history, and downloads at the Hub. A sidebar providing functionality similar to Internet Explorer's Downloads manager and Favorites Center. In addition, the browser includes an integrated PDF reader. It also supports asm.js.
Microsoft Edge does not support legacy technologies such as ActiveX and Browser Helper Objects, and will instead use an extension system.
Familiar Microsoft Edge features like the Hub allow users to organize the web in a way that cuts through the clutter, making it easier to find, view and manage their content on-the-go.
Microsoft Edge Features:
Continue on PC: Go anywhere and pick up where you left off by seamlessly moving content between your mobile device and PC (requires Windows 10 Fall Creator's Update).
Data Sync: Your favourites, passwords and reading list are synced across your devices. So no matter the device, your browser is always personalised to you.
Hub View: Your favourites, reading list, history and books all in one place. Finding and managing your content is simple.
QR Code Reader: Easily read QR codes at the touch of a button. Microsoft Edge will pull up the reading and information right onto your screen.
Voice Search: You can now use your voice to search the web. Ask a question or speak a prompt to use the web in more natural, familiar ways.
InPrivate: When you browse with InPrivate mode, your browsing data (history, temporary internet files, cookies) won't saved on your PC.
Remark: Fail to set 1st page startup and search engine… Chrome block all :/ same as chrome…..
Just for new installation. Don't overwrite your bookmark.
21 October 2020 – Add reg workaround to install (Windows 7) bypass "Microsoft Edge works best with the latest Windows Update"
Microsoft force users with this browser make it ugly 😛
I always use firefox cause i can use back my profile after reformat windows
113.0.1774.57
(Silent Install Repack) x86
(Silent Install Repack) x64
109.0.1518.78 (Win 7 last version)

(Silent Install Repack) x86
(Silent Install Repack) x64