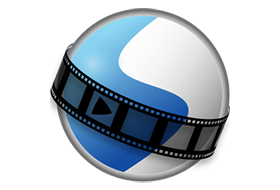 We designed OpenShot Video Editor to be an easy to use, quick to learn, and surprisingly powerful video editor. Take a quick look at some of our most popular features and capabilities.
Cross-Platform
OpenShot is a cross-platform video editor, with support for Linux, Mac, and Windows. Get started and download our installer today.
Trim & Slice
Quickly trim down your videos, and find those perfect moments. OpenShot has many easy ways to cut your video.
Animation & Keyframes
Using our powerful animation framework, you can fade, slide, bounce, and animate anything in your video project.
Unlimited Tracks
Add as many layers as you need for watermarks, background videos, audio tracks, and more.
Video Effects
Using our video effects engine, remove the background from your video, invert the colors, adjust brightness, and more.
Audio Waveforms
Visualize your audio files as waveforms, and even output the waveforms as part of your video.
Title Editor
Adding titles to your video has never been easier. Use one of our templates, or make your own.
3D Animations
Render beautiful 3D animated titles and effects, such as snow, lens flares, or flying text.
Slow Motion & Time Effects
Control the power of time, reversing, slowing down, and speeding up video. Use a preset or animate the playback speed and direction.
Edit Video
Drag and drop video, audio, or images from your file manager into OpenShot. It's that easy to get started video editing.
70+ Languages
OpenShot is available in many different languages, and can be translated online with LaunchPad.
Simple User Interface
We have designed OpenShot to be the easiest and friendliest video editing software ever! Give it a try and see for yourself.
Changelog v3.1; released 6 april 2023
Improved Profiles (400+ Export Profiles, New Profile UI, and more)
Huge Time Remapping update (improved audio resampling, support for backwards audio, bezier curve support)
Improved Undo / Redo system, includes grouping actions (i.e. single undo for split-clips and similar multi-step edits)
Improved Preview & Split Clip dialog (correct aspect ratio, correct sample rate)
Improved Caption Effect (high DPI support, improved VTT support)
Memory leak fixes (clip caching, memory leak fixes, prevent zombie threads)
Improved Performance (FrameMapper & Clip objects now include extra caching and optimizations)
Improved Keyboard Bindings (arrow keys)
Bug fix for Blender Animated Titles using high FPS (incorrect duration)
Bug fix for Mac Chroma Key effect (babl color methods)
Bug fix for video preview widget resizing, to correctly clear cache
Bug fix for Automatic Transition Direction logic (i.e. correctly fade in/out based on where the transition is dropped)
Fixed issue with AppImage to support newer distros (related to glibc compatibility)
Improved About dialog (release notes link, remove "candidate" for official releases)
Expanded default Emojis (adding in Arrows, Shapes, and Brands)
Improved File Properties Dialog, to handle replacing files and thumbnails, and better support for changing FPS
Updated language translations
Updated supporters and donors
Updated docs / user-guide