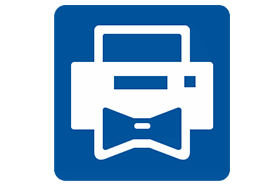 Print Conductor is a smart software solution for automated printing. Batch print PDF files, office documents, technical drawings, legal documents, agreements, presentations, text files, e-mails with attachments, charts, spreadsheets, invoices, images, and many other types of files. The program supports many popular file formats: PDF, DOC, TXT, PSD, XLS, PPT, MSG, JPG, PNG, TIFF, and more. All in one interface!
Automated Printing of 90+ Filetypes
Print Conductor lets you print batches of files without opening each one of them manually. You no longer need to open a file, click "File" > "Print", select printer, set up print settings, and click "Print". Instead, simply add documents to a list using drag & drop, set necessary parameters, select a printer, and let Print Conductor do the job.
Various document types are supported: PDF documents, images, text files, CAD files & technical drawings, legal documents, agreements, presentations, e-mails, leaflets, spreadsheets, invoices, barcode labels, script files, and many more. Print Conductor can batch print:
PDF files
Office documents: Microsoft Office Word DOC and DOCX documents, Excel XLS and XLSX spreadsheets, PowerPoint PPT and PPTX presentations, Visio VSD drawings, Publisher PUB files, OpenOffice ODT documents, WPD, RTF, TXT files, XLS charts, PPT presentations, Outlook EML, MSG, PST, OST email messages and more
CAD files & technical drawings: Autodesk AutoCAD DXF and DWG drawings, SLDDRW, VSD, IDW, IPN (Autodesk, SolidWorks, Visio files), MathCAD Prime MCDX, MCTX, KOMPAS-3D, and more
Image files: JPEG, PNG, TIFF, PSD, SVG, TGA, RAW images, CorelDraw CDR, CGM, and more
Archives & archive-based formats: RAR, ZIP, 7ZIP, GZIP, JAR, TAR, P7M
Zebra ZPL files: labels, industrial barcodes, QR-codes
Thanks to Vovan666 release
(Installer with keygen) x86