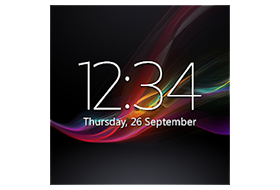 A simple digital clock widget with Sony Xperia™ look and feel.
Features:
– Choose between small (2×1), big (4×2), wide (4×1) and tall (2×2) resizable digital clock widgets with 8 possible fonts
– Adjust the time and date font size and color and select your preferred time and date format
– Option to show brief weather information and weather forecast on tap
– Option to show semi-transparent backplate with adjustable color
– Option to launch your alarm app, calendar app and your favourite weather app by tapping parts of the widget
– Option to add the widget to your lock screen (Android 4.2, 4.3 and 4,4 only*, supported on selected devices)
– Backup & restore settings
– Paid "Premium" upgrade that unlocks options for:
– Custom (user-selectable) font + 12 additional fonts
– Ability to show current time and weather in multiple locations
– Ability to show battery level info
– Adjustable transparency level for the backplate
– Removes advertisements
Note: Please keep in mind that adding the shortcut to the settings window to your home screen will not automatically add the actual widget to your home screen! If you don't know how to add the widget to your home screen, please use the "Help" option in the settings window.
Note: The required permissions are necessary for:
– Downloading weather forecasts / current weather information
– Detecting current location for the weather forecast
– Letting the user use custom fonts (Premium only)
– The Premium in-app purchase
– Backing up & restoring settings
* With the release of Android 5.0 Google removed the support for custom lock screen widgets
Xperia™ is a trademark or registered trademark of Sony Mobile Communications AB
Whats New:
6.7.5:
– New (Android 12+): Added an option for Dynamic wallpaper-based colors (automatically adjusts the colors of all texts and the backplate according to the current wallpaper and device theme – dark or light). Can be found under General
– Changed: Streamlined weather unit settings – all of the measurement unit settings are now combined into a single one
– Changed (Android 12+): App theme's default value changed from "Dark" to "System default"
– Updated translations
– Bug fixes
☆Premium features unlocked
☆Ads Layout removed/Ad activity Removed
☆Optimized Graphics/Zipaligned
☆Debug Info Removed
☆Mod By Srajawwal09
(Modded)