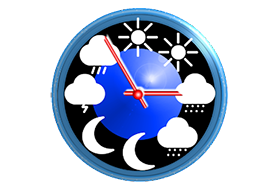 The high accuracy of the weather forecasting is achieved through the use of data from two independent weather agencies.
The high accuracy of the weather forecasting is achieved through the use of data from two independent weather agencies.
eWeather HD is the most informative Android app about weather and your environment. It includes current weather and weather forecasts from different weather providers, NOAA radar, weather alerts, latest earthquakes, geomagnetic storm forecasts, pressure changes indicator, wind and moon and sun calendar, visibility on the roads and METAR etc.
Annual archives of air and sea temperature for any city in the world allows you to choose the best time and place for your travel. You can compare the weather so far in the current year with the weather in the last year.
eWeather HD has a barometer. A diagram shows the atmospheric pressure changes for the past and next 24 hours. A warning will be displayed when the barometer detects pressure changes causing a headache.
The unique feature in this application is the Weather Clock Dial. It is very interactive.
The app helps to predict illness caused by pressure changes, geomagnetic storms, air pollution and weather deterioration.
Features:
• Two world-renowned weather providers
• Future weather radar based on NOAA radar (The USA and Japan only) with one-hour radar prediction
• Air quality and pollution information including PM2.5, PM10, Ozone, NO2, NO, CO concentration
• Twenty original widgets of the weather, radar, barometer, geomagnetic storms, alerts etc
• Earthquakes
• Hurricane tracking
• Tornado and hail probability
• Tides forecast
• 365 day weather archive
• Weather buoys: wave height, direction and period, wind and gust, pressure, water and air temperature, tides etc
• Geomagnetic storm forecast
• Solstice, equinox, polar night, polar day, solar and lunar eclipse
• Sea surface temperature on weather map, widgets, notification area
• Barometer with headache indicator and pressure changes graph
• Map with radar, cloud satellite layer, sea and air temperature, wind, alerts, hurricanes, humidity, earthquakes etc
• Ten notification indicators in the status bar, including temperature, moon phase, earthquakes, alerts, barometer etc
• Weather alerts (advisory, watch, or warning) from NOAA (National Oceanic and Atmospheric Administration), including black ice and freeze warnings
• Moon phase, moon rise and moon set times
• Sunrise and sunset times, time to sunrise or sunset
• Duration of the day and day length changes
• Wind speed and directionality indicators
• 20 KBytes of internet traffic per city for each weather update only
• World clock
• METAR from weather stations
• UV index
• Visibility on the roads
• Dewpoint hour by hour graph
• Probability of precipitation and precipitation amount: rainfall and new snowfall amount
• Follow by location (uses GPS or cell network location determination)
• Share forecast, alerts, earthquakes by e-mail and SMS
• Alarm clock time on clock dial and graph
Payment is one time. There are no ads and no in-app payments. Updates are always free.
If you have ANY questions, there is an FAQ section that takes you directly to the website. If your question is specific to your customized set up, customer service is courteous, knowledgeable, willing and able to help with fast turn around time.
What's New:
Added weather forecast from Met Norway
Improved the user interface of the app and weather widgets
Mod Info:
Pro / AdFree features unlocked;
Disabled / Removed unwanted Permissions + Receivers + Providers + Services;
Optimized and zipaligned graphics and cleaned resources for fast load;
Ads links removed and invokes methods nullified;
Google Maps Location works;
Google Play Store install package check disabled;
Debug code removed;
Remove default .source tags name of the corresponding java files;
No activation code required;
Languages: Full Multi Languages;
CPUs: universal architecture;
Screen DPIs: 120dpi, 160dpi, 240dpi, 320dpi, 480dpi, 640dpi;
Original package signature changed;
Release by Balatan.
(Modded)