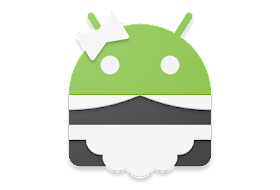 SD Maid will help you keep your device clean and tidy!
It offers a collection of tools to manage apps and files.
Nobody is perfect and neither is Android.
Apps you have already removed leave something behind.
Logs, crash reports and other files you don't really want are constantly being created.
Your storage is collecting files and directories you don't recognize.
Let's not go on here… Let SD Maid help you!
SD Maid allows you to:
• Browse your whole device and manipulate files through a full-fledged file explorer.
• Remove superfluous files from your system.
• Manage installed user and system apps.
• Detect files formerly belonging to uninstalled apps.
• Search for files by name, content or date.
• Obtain a detailed overview of your devices storage.
• Optimize databases.
• Do actual app cleaning and remove expendable files, which supersedes what others may call 'cache cleaning'.
• Detect duplicate pictures, music or documents, independent of name or location.
• Run tools automatically on a schedule or via widgets.
What's New:
v5.3.12
Core
Improved: Translations.
Improved: Clutter database.
Fixed: Statusbar overlaping navigation header card.
AppCleaner
Improved: ACS matching for ru on OnePlus devices with Android 12.
Improved: Exclusions are now applied earlier during scan, this should make it easier for low powered devices to exclude large folders from being scanned.
StorageAnalyzer
Fixed: Not being able to delete some items on rooted Android 12 under /data/data.
What's New:
v5.3.22
Core
– Improved: Clutter database (Huawei specific).
AppCleaner
– Improved: Filter for hidden caches.
– Improved: Accessibility service compatibility with OnePlus.
Mod Info:
Pro / Paid features unlocked – no additional key required;
Disabled / Removed unwanted Permissions + Receivers + Providers + Services;
Optimized and zipaligned graphics and cleaned resources for fast load;
Remove default .source tags name of the corresponding java files;
Debug code removed;
Check for new update disabled;
Native bugsnag analytics removed completely;
Cleaned assets folder;
Analytics / Crashlytics disabled;
Languages: Full Multi Languages;
CPUs: armeabi-v7a, arm64-v8a, x86, x86_64;
Screen DPIs: 160dpi, 240dpi, 320dpi, 480dpi, 640dpi;
Original package signature changed;
Release by Balatan.
(Modded)