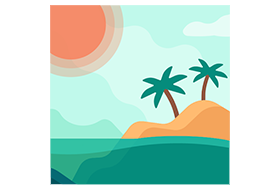 Do You feel difficult to concentrate at work or at study or feel difficult to fall asleep? White Noise for sleep & relax is created exactly for you.
What is white noise and how white noise can help you to concentrate to work or easy to fall asleep?
White noise is a sound which is a mixture of different noise at different level of frequency. Different noises at different level of frequency which can cover your real surrounding noises. When you listen to White Noise, your brain understands that it can listen to only one noise and can't recognize the other surrounding noises.
Application Functions:
Play mixed white noise
White Noise for sleep & relax can play white noise by selecting and mixing some sounds, including: Rain, Thunderstorm, Wind, Forest with Birds, Water Steam, Seaside, Fire place, Summer Night… This app also support you to adjust the volume of certain sound
Save White Noise to Relax Combo
After created your favorite White Noise, you can save it as a Relax Combo and replay it anytime you want.
Configuration with timer
This app support you to set up play time and automated turn off time as you wish.
Dark Mode
You can choose the dark theme or light theme as you like. Both modes are very beautiful.
Custom theme colors
White Noise for sleep & relax has five different colors for theme. You can choose the style you like.
What's New:
Fix some bugs
Package Info:
Languages: Full Multi Languages;
CPUs: universal architecture;
Screen DPIs: 160dpi, 240dpi, 320dpi, 480dpi, 640dpi;
Untouched [Paid] apk with Original Hash Signature, no [Mod] or changes was applied;
Certificate MD5 digest: af5ae1ba98adf361fe87e5369525041d
(Paid)