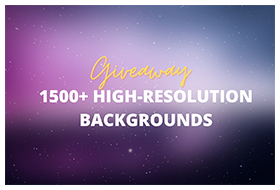 Make awesome designs that will not only catch the eye of everyone but that will allow you to work with your imagination to built something playful and cool.
Use them for brand work, print design and many more. Bring an authentic vibe to your graphics.
Note: This is a giveaway version wherein you get:
1500+ realistic HD Backgrounds;
High resolution ready to print images;
High Resolution Backgrounds (assorted HD sizes in 1080px, 2500px, 4000px or higher).
DIRECTIONS
The download links for 1500 High Resolution Backgrounds Bundle are provided to you above. There are multiple files; each contain different backgrounds, so make sure to download them all. The files are not a program; they are ZIP files. These ZIP files contain 1500 high resolution backgrounds for you to use. After they have been downloaded, simply extract the zips and start using them.
Enjoy!
Terms and Conditions
This is a 1-computer lifetime license, for commercial and noncommercial use
No free updates; if you update the giveaway, it may become unregistered
You get free tech support
You must download the zip files before this offer has ended
May not be resold
Technical Details
Developed by Eldamar
Download size is over 500 MB
Supports Windows 7, 8/8.1, 10, and 11 (32-bit and 64-bit), Mac OS, and Linux