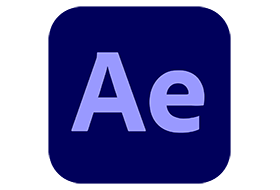 Adobe After Effects 2022 software is the industry-leading solution for creating sophisticated motion graphics and cinematic visual effects. Transform moving images for delivery to theaters, living rooms, personal computers, and mobile devices.
Adobe After Effects 2022 software enables you to create groundbreaking motion graphics and blockbuster visual effects. Whether you're working in broadcast and film or delivering work online and to mobile devices. Design vector graphics, create more organic movements, and expedite delivery with new integration and collaboration features.
This Adobe software helps make you more productive. Searchable timelines and projects, expanded 3D compositing options, included Mocha for Adobe After Effects software, and numerous enhancements streamline almost everything you do.
Native 64-bit support means you can tap all the RAM on your system to work more efficiently with HD, 2K, and 4K projects.
It also powers your Adobe Creative Cloud Libraries, giving you instant access to your favorite assets right from within After Effects. With CreativeSync, you can start your project in any app on any device, pick it up where you left off and finish it on your desktop.
 Adobe After Effects 2022 Features:
Live 3D Pipeline. Objects and scenes from popular 3D modeling and animation software CINEMA 4D can be used directly as footage inside Adobe After Effects CC without rendering first. This eases roundtripping between the programs and opens up numerous creative possibilities.
Refine Edge tool. It's the end of hard matte lines. Keep the details when separating complicated foreground elements like frizzy hair or motion-blurred edges from complex backgrounds. This means you can create natural-looking composites without keying specially shot footage.
Warp Stabilizer VFX. A major upgrade to the much-loved Warp Stabilizer, VFX adds the ability to choose which objects within a scene get stabilized, reverse a stabilization, and preserve a scene's original scale to fix tricky shots such as aerial fly-throughs.
3D Camera Tracker. The 3D Camera Tracker makes it possible to reproduce the original camera movement in a scene so you can add new layers – including video and text layers. It also now features much-requested Track Optimization, so you can refine tracking points over time.
Global Performance Cache. Create more in less time, even in high-resolution projects. With Global Performance Cache, your previews are saved and ready when you are, even if you close a project and open it later. Duplicate compositions and undo edits without waiting for Adobe After Effects to catch up.
Pixel Motion Blur. Add or enhance motion blur for moving objects in live footage and rendered scenes. You can use this effect to add realism, exaggerate movement, match shots, and make stuttery footage easier to watch.
Text and shape layers. A powerful typesetting and text animation engine lets you craft titles from classic to manic, in either 2D or ray-traced extruded 3D. Define, draw, and animate vector shapes to create almost anything from a lower-third bar to animated characters.
Other Features:
Adobe After Effects offers the cool new tools for creative and visual effects, including Refine Edge, Warp Stabilizer VFX, Pixel Motion Blur, an enhanced 3D Camera Tracker, and CINEMA 4D , which lets you composite C4D files within After Effects.
Deep, accurate color. See all of your sources as originally intended. Manage your source, monitor, and destination color spaces with color management and LUT support. Work at multiple bit depths, including 32-bit floating point, and well as linear gamma.
Bicubic resampling. Whether you're scaling a layer up or down, you can make sure every pixel looks its best with your choice of bilinear and bicubic resampling algorithms.
Motion control tools. Choose from a variety of options for controlling and smoothing motion within your shots, including a graph editor, subpixel positioning, motion blur, and frame blending. Multiple motion trackers and stabilizers are also available.
Support for multiple dimensions. Work smoothly in 2D, 2.5D, and extruded 3D spaces. You can even combine 2D and 3D in the same composition. Use native 3D tools, and import data such as camera position from a variety of dedicated 3D applications.
Hundreds of effects. If you can imagine an effect, Adobe After Effects can help you create it. Hundreds of plug-ins let you add blurs, shadows, distortions, particles, colorizations, transitions, and much more.
More Features:
Adobe After Effects provides timecode support, quick stereo 3D setup, Roto Brush, and Mocha for Adobe After Effects all help you work more efficiently. Get unlimited creative options for motion graphics thanks to the combination of innovative 2D and 3D compositing and animation tools, plus a robust selection of third-party plug-ins.
Animation presets. Save time by using hundreds of presets to generate text animations, backgrounds, shapes, lower thirds, transitions, and more.
Paint and clone tools. Use vector-based brushes to clone, erase, and paint over any portion of your image. Animate brush strokes to create hand-drawn effects. You can use your Wacom tablet as well, including pressure support.
Support for multiple media types. Mix media from multiple sources, including industry standards like QuickTime and CinemaDNG, as well as vendor-specific formats such as AVC-Intra, XDCAM, and RED raw files. Pair After Effects with Adobe Media Encoder to deliver your masterpiece to multiple devices.
Frame-accurate audio support. After Effects offers multi-track audio support, including the ability to mix, process, and even generate animations from your soundtracks. Extend these powers with Adobe Audition.
What's New in Adobe After Effects 2022 12.0:
Fixed an issue resulting in an incorrect error message when user stops a render in progress.
Fixed an issue that resulted in an error message when render is resumed after being previously stopped.
Resolved an issue that caused misestimation of render output file size.
Fixed an issue that caused renders to be sent to incorrect destination folder on Windows.
Fixed an issue that caused existing renders to be overwritten without warning on Windows.
Fixed an issue that resulted in template-generated render output paths not being sent to Adobe Media Encoder.
Fixed an issue where comp pixel aspect ratio was not respected in Draft 3D.
Fixed an issue that caused jagged drawing of 3D Transform Gizmo when switching gizmo modes.
Fixed an issue where opacity slider bar control did not move to mouse position in 3D Scene Navigation.
Fixed an issue that caused new comps to inherit 3D view from most recently viewed comp.
Fixed an issue that caused preview screen to flicker when creating a long text frame.
Fixed an issue where pixels weren't displayed at certain composition resolutions.
Fixed an issue that caused layer markers to remain past the split point when splitting layers.
Fixed an issue with Cinema4D that caused After Effects to crash when resetting Camera/Take.
Supported Operating Systems:
Microsoft Windows 10 (64-bit) version 1903 or later
21 April 2022 – Updated…
Special thanks to @vposy release.
(Preactivated Installer) x64