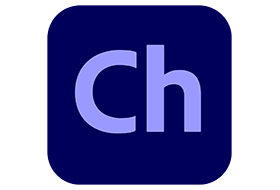 Adobe Character Animator 2022 will help you to create a 2D character and make it come alive. The software copies your facial movements so your characters act – and react – realistically.
Adobe Character Animator 2022 allows you to create 2D animations for live broadcasts, student projects, and cartoons. Or just wow your friends on social media.
Build your character from scratch in Adobe Illustrator or Photoshop – or start with one of the puppets already available in Character Animator. Getting your character to move doesn't take a lot of work. Control gestures like waving with your keyboard or MIDI device.
Movements can be saved as buttons, sliders, or knobs so they're easier to remember than key commands. And you can smooth transitions between facial poses for a hand-animated look.
This Adobe software tracks your facial expressions – from raised eyebrows to moving lips – in real time and records your motion and voice using your webcam and microphone. So when you look surprised, happy, or angry, your character does, too.
Send your character out into the world. Go live on Facebook or TV. Amuse your friends on social media. Or send it to Adobe Premiere Pro or After Effects to include in bigger projects like a movie or cartoon.
Adobe Character Animator 2022 Features:
Improved trigger workflows
Create, edit and organize triggers with convenient layer management and drag and drop actions between panels.
More realistic Particle Physics
Now particles can build on top of each other and react – snowflakes can accumulate to cause an avalanche and bricks can stack up then collapse in a pile.
Easily align animations
Scene Snapshot is a new onion-skin display feature that gives you a frame-by-frame reference for comparing the movements of your animations.
Countdown to Record
A new three-second countdown ensures that your character and puppet are in the right pose before recording starts.
What's New in Adobe Character Animator 2022 22.0:
Unified version numbers. With this major release, all the Adobe video and audio applications will align on version number 22.0, making it easier to ensure compatibility across the applications.
Body Tracker. Live-perform character animation using your body. Powered by Adobe Sensei, Body Tracker automatically detects human body movement using a web cam and applies it to your character in real time to create animation.
Smart replays. Replays triggered during recordings in new scenes now appear as trigger bars. This replaces multiple take bars for a simpler, more compact, and easier-to-modify timeline.
Head & Body Turner behavior. Head turner behavior is now Head & Body turner. Switch between groups, for different views like the front, quarter, and side profile of a character, as you swivel your body left or right.
New and updated example puppets. Use new puppets (Al and Sam) in your animations. Several puppets (Chloe, Tull, Bongo, Footy, Ninja, Thorne, and Heather) have been updated to support the Body Tracker.
Supported Operating Systems:
Windows 10 (Version 1909 or later),
Special thanks to @vposy release.
(Preactivated Installer) x64