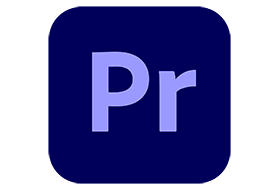 Adobe Premiere Pro 2021 software offers breakthrough performance for video production, enabling you to work dramatically faster thanks to the revolutionary native 64-bit, GPU-accelerated Adobe Mercury Playback Engine.
Adobe Premiere Pro 2021 works natively with the video formats you want and accelerate production from scriptwriting to editing, encoding, and final delivery. Save time with industry-leading native tapeless workflows, which eliminate transcoding and rewrapping, while preserving the pristine quality of your footage.
Adobe Premiere Pro 2021 captures and logs footage from virtually any camera. Import and export Apple Final Cut Pro and Avid projects in Adobe Premiere Pro 2020 so you can explore new possibilities with After Effects, Photoshop, and other Adobe software, bringing timesaving integration between Adobe tools to projects created in these other NLEs.
Adobe Premiere Pro 2021 Features:
Link and Locate. Modern productions are built on hundreds (if not thousands) of clips. It's easy to lose track of files and backups saved on multiple drives. Link and Locate helps you track down your clips quickly, making media management more efficient.
Lumetri Deep Color Engine. Quickly apply rich, beautiful, preset color grades. With the Looks Browser, preview and add looks from Adobe SpeedGrade as easily as adding a dissolve. Also import LUTs from other systems.
Precise audio control. Control sound with the Audio Clip Mixer, adjusting clips independently for a perfect mix. Fine-tune with the TC Electronic Radar Loudness meter, and access effects plug-ins like VST3 and Audio Units (Mac OS only).
Adobe Anywhere integration. Make and review edits from any location. Assemble the best team – with no geographic limits.
Mezzanine codecs, native formats. Industry-standard mezzanine codecs are built in. Edit cross-platform with Apple ProRes. Get cross-platform support for MXF-wrapped Avid DNxHD files.
Adobe Premiere Pro 2021 works natively with the latest mobile, DSLR, HD, and RAW formats. Edit, trim, and adjust effects in real time. Stabilize shaky footage. Enjoy a sleek, revamped user interface and expanded multicam support.
More Features:
Mercury Playback Engine. Now, more editors get real-time performance when working on complex sequences, thanks to support for a wider range of GPUs. Get enhanced, cross-platform support for OpenCL and CUDA. Render less often, work faster with third-party effects, and face deadlines with more confidence.
High-fidelity interchange. Get greater accuracy and a smoother workflow when importing or exporting Avid or Final Cut Pro projects. AAF import is more accurate, with improved support for DNxHD media. And you can choose just the sequences you want when exporting to XML or AAF.
Sync Settings. Now you can walk into any edit bay in the world, sync your settings with Creative Cloud, and all your customized settings will be exactly where you want them.
Multicam editing. Working with multiple video angles just got easier. Set up multicam edits faster with a streamlined workflow. Sync single shots or entire bins of footage all at once using audio waveforms. You can even mix frame rates and codecs in the same sequence.
The powerful Adobe Premiere Pro 2021 lets you edit video faster than ever before. Dozens of brand-new features include a redesigned timeline, improved media management, and streamlined color grading. Your entire creative world, together in one place.
Other Features:
Project and media management. Keep your projects running smoothly with task-based workspaces that let you focus on the job at hand. Quickly find media with HoverScrub and RapidFind search results.
Broad format support. Get true native support for a wide range of source formats with no need for transcoding or rewrapping. Import files fast and get immediate, render-free playback. For tape-based workflows, the new Edit-to-Tape panel allows for easier layback.
End-to-end metadata workflow. Use metadata that travels throughout your workflow for smarter editing and streamlined post-production. Import metadata infused Adobe Story scripts and sync them to footage. Jump start your edits by importing rough cuts with associated metadata from Adobe Prelude.
Greater audience reach. Reach more audiences with files optimized for tablets, web, smartphones, and TV. From capture to delivery, metadata makes assets manageable.
Special thanks to @vposy release.
Remark:
14 April 2021 – Release repack version… Please let me know if fail…. The repack do sharing same ipcbroker.exe with photoshop 2021 repack (latest). If uninstall may damage photoshop take note.
17 September 2021 – Update macOS version 15.4.1.6

27 September 2021 – Update repack theme into black theme…
(Silent Install Repack) x64
(Preactivated Installer) x64

Adobe Premiere Pro 2021 v15.4.1.6 x64 (macOS)