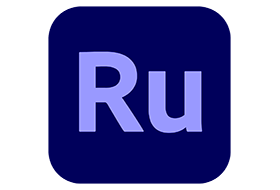 Adobe Premiere Rush is the first all-in-one, cross-device app for creating and sharing online videos – fast. Edit, fix color, adjust audio, add titles, and more with easy-to-use tools, customizable Motion Graphics templates, and integration with Adobe Stock. And share your videos to your favorite social channels right from the app.
Premiere Rush as Adobe is a simplified version of Premiere Pro is an application designed for mobile videoblogerrs and shooting enthusiasts. According to Adobe, the creative person does not need to become an expert in the field of video editing to create a cool movie. Especially if you need to install video on a daily basis, for these purposes is perfect Premiere Rush.
Adobe Premiere Rush Features:
Easy editing: With an intuitive interface and creative flexibility as you progress, Rush makes editing easy.
Simple timeline: Arrange scenes with click drag-and-drop ease, access four video tracks, and three audio tracks without gaps in the timeline.
Customizable titles: Easily add and customize built-in, professionally designed Motion Graphics templates. Hundreds more available on Adobe Stock.
Add audio: Record voiceovers and use other simple tools like sound balancing, noise reduction, and auto-ducking to make your videos sound great.
One-click share to social: Add a thumbnail, schedule your post, and publish to multiple social platforms in one click, without leaving Rush.
Available cross device: Edit on your phone, tablet, or desktop. Your edits are automatically synced to the cloud, so you always have access to your latest versions.
In Adobe Premiere Rush CC you can edit with tools to work with color, sound, animated graphics, text, and so on. Workpiece quality animations and screensavers have right in the app. And you can download hundreds more available on Adobe Stock if desired. You can change the font, color and size to match the result is greater than the desired style.
All you need. All in one app.
Go from shoot to showtime in record time. Built-in camera functionality helps you take pro-quality video on your mobile devices. Editing is easy, with simple tools for color, audio, motion graphics, and more. Share right from the app to favorite social channels like YouTube, Facebook, and lnstagram.
Make a bigger splash on social.
Wow your followers with professionally designed Motion Graphics templates right in the app, or find hundreds more on Adobe Stock. Change the color, size, font, and more to match your personal brand. And take your videos from amateur to amazing.
Create your show on the road.
Capture footage on your phone, and then edit and share it to social channels on your phone, tablet, or desktop. Everything is synced to the cloud, so your latest edit is always at your fingertips, anywhere you are.
Adobe Premiere Rush CC plays well with Premiere Pro. When you want to do even more with your videos, you can open your Premiere Rush projects in Adobe Premiere Pro CC.
Minimum system requirements for Premiere Rush
(Preactivated Installer) x64