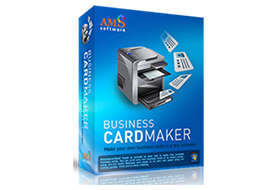 Easy software to design custom business cards
550+ card templates for doctor, lawyer, etc.
HQ prints on different paper sizes (600/1200 dpi)
Quick & easy database import from MS Excel
What Can You Make With Business Card Maker?
1
Business cards
Build your company corporate style by creating professional business cards. Add all the important info about your company to the card: logo, address, working hours, telephone, emails and social media contacts.
2
Discount cards
Please your regular clients with printable discount and loyalty cards. Use this program to design pro-level cards that give your customers a new status. Save the created design as a template for future promotions.
3
Gift cards
Design gorgeous gift cards with pictures and clipart for your business. You will find templates for health care, education, real estate business, etc. This is the best way to help other people learn about your company.
4
Badges
Create professional-looking badges with personal photos for members of various clubs, organizations and associations, including your own employees. Make a card design that will fit into your corporate style.
Make Business Cards Without Professional Help
Now there's no need to hire a professional designer for making business cards – you can do it yourself! With Business Card Maker, you will be able to create professional-looking cards of different types on your own computer. Use 550+ templates from the built-in collection to save yourself time, then customize your card with hundreds of cliparts, icons and pictures. Don't forget to add a bleed to trim the cards later. Print the card right at home using convenient layouts. This is a good way to reduce business and personal costs, as well as create the business card design you really want.
Say 'Yes' to Easy Card Creation
The business cards maker is pretty easy to use, so you won't have to read lots of manuals to get started. The smart wizard will help you prepare any type of card in no time at all. With the convenient grid, you will be able to easily align all the objects on the canvas by snapping them to the lines. Decided to make a bigger or smaller card? Set a different size on the go without affecting your initial design. Now, take a look at the screenshots below. They show examples of different cards created in Business Card Maker.
Make Your Own Business Cards In 3 Simple Steps
Step 1. Choose a Card Template
Pick the card type that suits your business field best: catering, real estate, lawyer, IT, nail salon, hair salon and 20 other professional fields. Select the card size: 3.5 x 2 inches, 90 x 50 mm, 74 x 52 mm or use custom settings.
You can also set the bleed here if you want to print your business cards in a local print shop. Finally, import the contact data from a text document or type it in later.
Step 2. Customize Your Card
Now edit your card design. Change the card background – add texture, gradient or picture. Select a readable font that suits your corporate style and insert a clipart, for example, an icon beside your email or social media address.
With this software to make a business card, you can also create double-sided cards with photos. Add some information to the reverse side – directions to your office or a price list.
Step 3. Save & Print Your Card
Forget about the inconvenient ordering system offered by print shops. With Business Card Maker, you can print as many cards as you need – even just one or two – and save lots of money.
No need to reopen a project if you want to print different cards on a single sheet of paper. You can pick a card from the previous project and print a bunch of them at once.
Remark: Big thanks goes to MEDs0009 release in TSRh.. 10 Days trial limit removed.

(Cracked Silent Install Repack) x86