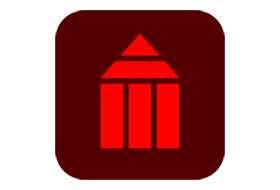 The newest edition of ConceptDraw DIAGRAM (previously known as ConceptDraw PRO) ensures that it still to be the world-leading professional and easy-to-use business diagramming software. ConceptDraw DIAGRAM v16 provides a complete range of business graphic documentation solutions with thousands of stencils and hundreds of templates for rapid diagramming. ConceptDraw Solutions offer business-specific add-ons to support an expansive variety of workflow requirements. ConceptDraw DIAGRAM v16 is a versatile diagramming tool, which provides for the sharing of drawings and assists in team collaboration through presentations and many export options.
MS Visio Compatibility
ConceptDraw DIAGRAM v16 is an excellent alternative to MS Visio on macOS and Windows. Many people involved in visual communication need software tools that will import and export to the Visio file format. Powerful business graphics and diagramming tools are the norm and not the exception for today's businesses. For these important visual communication tools do their job it is often important that they be compatible with a file format that can be easily shared with others. For years the de facto standard file format for business has been Microsoft Visio™. As a result, when looking for a Visio alternative, people need the ability to open and save MS Visio files. ConceptDraw DIAGRAM v16 is such a viable alternative for individuals and organizations that are looking for a professional business software. ConceptDraw DIAGRAM v16 has import and export roundtrip of the native Visio file format.
Drawing Tools
ConceptDraw DIAGRAM v16 provides a set of powerful and comprehensive drawing tools. Effortlessly design any kind of custom stencils to visualize your specific business diagrams. Arrange and format diagrams of any complexity using side panels. Format, order, align and position tools allow one to create professional looking flowcharts, process flow diagrams, engineering drawings, infographics, dashboards and more diagrams that are clear and easy to understand.
Building Plans Maker
ConceptDraw DIAGRAM v16 is well suited as building plan software. There are a number of add-in solutions that contain vector stencils and templates to assist in any project. ConceptDraw DIAGRAM v16 is a professional tool imagines your blueprints, architectural, and floor plans; for home, business center, restaurant, shop, or office layout. The building plan solution family includes hundreds of stencil libraries that are tailored to industry standards. Solutions are available for: office layouts; piping and instrumentation diagram (P&ID); heating, ventilations, and air conditioning (HVAC); and emergency exit plans.
Live Objects Technology
Important business metrics can be viewed and tracked with live object technology. Live objects can dynamically show changes based on external data source files to give you an accurate overview of any process. ConceptDraw Solutions provide a set of solutions with library stencils of data driven charts and indicators. Using live objects, you can communicate the state of any process or the metrics of any workflow. Making custom KPI dashboards will provide real-time information with the help of interactive and easy-to-understand charts and indicators. The ability to rapidly and visually communicate these items makes live objects a powerful tool for helping your organization function more efficiently.
Rapid Flowchart Technology
ConceptDraw DIAGRAM v16 is dedicated to providing professionals with the optimum tools required to create diagrams in a clear and efficient manner, maximizing possible output to keep up with the designer's speed of thought. Accelerate designing of Business Process Diagrams, Process Flowcharts and UML diagrams using powerful RapidDraw capabilities. Organizational Charts, Concept Maps and Data Flow Diagrams visualization are highly benefiting of drawing speed from the use of advanced Chain and Tree connection modes. Create Sales Process Flowcharts, EPC, or BPMN diagram for the moment using the auto-routing capabilities of Smart Connectors. This intuitive tool takes a lot of the workload from specialists, allowing them to focus on the more creative aspects of their tasks.
ConceptDraw DIAGRAM v16 Features
ConceptDraw DIAGRAM v16 brings a set of enhancements. Most of them are developed in the wake of DIAGRAM users' requests. Our users want the documents they created, open fast and look professional. In this release, the performance of the application has been improved, making it faster. The new ConceptDraw DIAGRAM v16 will make your diagramming experience easier and more accurate. Find below a list of improvements that enable you to be more productive with DIAGRAM v16 both on macOS and Windows platforms. When creating your next drawings, give them a try and see how much time and effort you can save.
PDF Layers Export (Windows)
PDF Layers is a feature that lets you show or hide content in PDF files. It is used to overlay images, display comments, and add detail to drawings. Using PDF layers is a good way to control the visibility of document content. Support for PDF layers was introduced in PDF version 1.5. which is compatible with Adobe Acrobat version 6 or later. ConceptDraw DIAGRAM users can now export their multilayered drawings to PDF with layers preserved.
Raster Adjustment
ConceptDraw DIAGRAM lets you improve bitmap quality. You can adjust brightness, contrast, shadows, gamma and color saturation. Brightness settings allow you to adjust the brightness of all colors and the difference between the light and dark parts of an object.Contrast enhancement allows you to adjust the color of a bitmap while preserving shadow and highlight detail. The Gamma effect enables picking up details in a low contrast image without significantly affecting the shadows or highlights.Using the saturation effect allows you to adjust the colors and their intensity by changing the percentage of white in the image.
Improved Performance
Improvements to the performance of the application make it run faster. Here at ConceptDraw we are constantly working to make ConceptDraw DIAGRAM the high-performance and powerful business diagramming software you need. Now, every time you open a document, it happens a few seconds faster. This can save you hours of time per year.
System Requirements:
– Microsoft Windows® 8.1, 10 and higher (64-bit certified)
– CPU: Intel or AMD; 1.8 GHz or higher
– RAM: minimum 4 GB
– HDD: minimum 1.5 GB disk space
(Cracked Silent Install Repack) x64