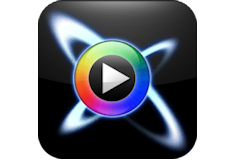 PowerDVD 12 is the ultimate universal media player that extends your viewing experience beyond just movies on PCs. PowerDVD is the number one choice for media entertainment on PCs and the only player software you need for all your media content and entertainment devices.
PowerDVD 12 plays all types of media content – movies, videos, photos and music, and brings the best in video and audio technologies to upgrade all your viewing experience to HD and 3D, including streamed content via home network, or, Youtube, Facebook and Flickr pages. PowerDVD 12 is the ultimate entertainment software you need anywhere at home and on-the-road. The Player is designed to deliver state-of-the-art media entertainment and the best player experience available, resulting in maximum enjoyment of your HD & 3D media. PowerDVD is the only entertainment software you need to play movies, videos, photos and music from your media library, drives, connected devices and social network.
PowerDVD 12 introduces a unique feature to turn 2D Blu-ray movies into 3D in real time. Re-watch your all-time favorite Blu-ray titles again in 3D with TrueTheater 3D! Throw yourself right into the action by converting 2D photos and videos into a super cool 3D experience with TrueTheater® 3D. The effect is amazingly realistic and creates a whole new way to enjoy your videos and photos.
PowerDVD 12 breaks down the barriers between devices, giving the freedom to easily enjoy entertainment content anywhere, on any device – PCs, iPhones, Android tablets, Blackberrys, DLNA TVs, etc… . Now all your devices can talk to each other, no matter the brand or operating system, and share enhanced, high quality media using the first truly complete multimedia solution.
Enjoy your favorite social media sites, including Facebook, YouTube, and Flickr, directly from PowerDVD 12. Having all your social media in one place means it is easier and more convenient to browse media content and interact with social network friends.
Enhanced Media Experiences:
• Convert Blu-ray Movies to 3D
• Enjoy 2D Videos & Photo Slideshows in 3D!
• Watch DVDs in Amazing HD
• YouTube Enhanced!
• Surround Yourself with Sound
• Optimized For Your Big Screen TV
• Silky Smooth Action Sequences
• Correct Shaky Camcorder Videos
• Make Your Videos & Photos Snap!
Enhanced Player Experience:
• Instant Scale – Browse media thumbnails in many sizes
• Instant View – Quickly search & browse your media
• Instant Zoom – Watch for details
• Instant Seek – Instantly find your favorite scene
• Smart Media Library – Easiest way to browse media
• Movie Marks – Bookmark your favorite scenes
• An Optimized Player Experience – Any Device, Any Screen
– Remote Control Friendly Cinema Mode for Large Screens
– Informative & Feature Rich Classic Mode for PC
– Touch Friendly Mobile App for Smartphone & Tablet
– Control PowerDVD with Your Smartphone
Play All Media:
• Brilliant Blu-ray & DVD Movies
• The Next Dimension in Blu-ray: Blu-ray 3D
• Enjoy HD Audio for Your HD Movies
• Headphone Technology – Amazing Audio on the Go
• Vast Video Playback Support
• View Photos in Animated Slideshows
• Enjoy Favorite Music Playlists & Lossless Audio
• Play All Media Content From anywhere – PCs, home networks & Cloud!
• Over 17 million DRM-free songs!
10 March 2012 – Enable Media Service for not showing error in windows 7 64bit.
(Registered Repack)