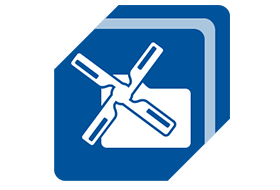 FolderMill provides automated conversion of input documents to PDF, JPEG, TIFF, or other image formats and automated printing these documents on desktop or enterprise printers.
The software's ease of use makes it possible to deploy the system in minutes for a large number of users.
The basic idea behind configuration is to create Hot Folders and set of Actions. It is possible to set several actions set for each Hot Folder, e.g. one applies watermark and prints on a defined printer, and another saves input document as PDF. Individual Hot Folders are usually created for different workgroups or different tasks. A new user connects to the system simply by creating shortcuts to the input and output folders.
The FolderMill process is as follows:
a user would copy a document to a pre-defined input folder
the system detects the file and immediately proceed to the defined operations:

convert – the document is converted to the chosen format and placed in the output folder
print – the document will be sent to the chosen printer
Several Hot Folders may be created for a single workgroup (department) each with a certain functionality. For example, one Hot Folder may help prepare material for publication whereas another one creates compact archives.
Product Features and Advantages
No additional software needed on workstations. The only thing required is to install the FolderMill on a selected network server, define Hot Folders, and map the desired network folders for selected users in system policies.
More than 40 different document types supported to print or convert. Complete list of supported input formats.
Export into 4 formats. Documents of any type can be exported into PDF or image files in popular formats: TIFF, JPEG, PNG.
Keep printer settings. FolderMill saves printer settings for each individual Print Document Action.
Virtual printers support. Ability to set a virtual printer for Print Document Action increases the number of supported file formats. We provide commercial license of Universal Document Converter virtual printer by request.
Work with multipage documents. Several documents of various types can be combined into one multi-page file.
Ease of use. To export any types of documents as PDF or images of the desired format, just copy them into the input folder. A few moments later, the converted document will appear in the output folder.
Advanced quantization algorithm. An advanced image quantization algorithm produces extremely high quality copy even when converting into a black and white format.
High resolution. Resolutions of up to 1200 DPI produce documents that preserve all the elements of the artwork of advertising materials and the smallest detail on drawings and circuit diagrams.
Small system footprint. Small system footprint helps export documents of almost any size with hundreds of pages.
Quick configuration. The FolderMill Control Panel makes configuration very quick and easy.
Multi-language user interface. FolderMill is available in 6 languages: English, German (Deutsch), Spanish (Español), French (Français), Dutch (Nederlands) and Russian (Русский).
Thanks to Soda120 cracked plugin release….
(Cracked Plugins Silent Install Repack) x86