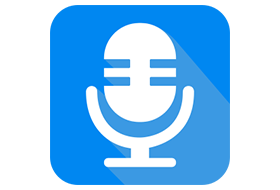 You may want to capture music from YouTube, Pandora, or any other streaming audio web site, and you may want to record online radio programs or the audio part of a video, so you will be able to listen your favorite audio content later – on a PC, on a portable mp3 player or on the audio system of your car. Gilisoft Audio Record er Pro is a good choice for you.
This streaming audio recorder works directly with your sound card, so you can record any sound or music at near-perfect quality.. GiliSoft Audio Recorder Pro is a perfect audio recorder to record computer sounds and microphone to AAC, AC3, AIFF, AMR, AU, FLAC, M4A, M4B, M4R, MKA, MP2, MP3, OGG, RA, VOC, WAV or WMA files on Windows XP,7/10.
Exclusive Features of Audio Recorder Pro
Powerful & Easiest Audio Recorder
So far, a number of audio recording software floods the market, but every day a lot of people still search "how to record audio on pc with (or without )microphone". Because most of them make many users feel confused and tired, they even let users to learn where to enable "Stereo Mix". In fact if try to use GiliSoft Audio Recorder Pro, you will know recording audio is so easy and you can record computer sound and your voice at the same time only need to choose "Computer sounds and micphone".
High Quality Recordings
GiliSoft Audio Recorder Pro can record sound reproduced by other programs, including Windows Media Player, iTunes, Musicmatch Jukebox, WinAmp, Internet telephony programs such as Skype, and many others. The reproduced sound can be either sound from local files being played back or sound from Internet transmissions. With built-in advanced audio record engine, the recorder produces high quality recordings.
Recording Internet Broadcasts (streaming audio)
No need install virtual audio device, Gilisoft Audio Recorder Pro is a real-time digital audio recorder that records any audio source that's automatically detected on your computer. You can capture audio perfectly from over 500 popular radio stations and online music sites including YouTube, Pandora, Spotify, BBC Radio, iTunes Radio and much more.
Recording Skype, Yahoo Messenger, and Google Talk
Record all voice conversations, including Skype, Yahoo Messenger, Google Talk and any other VoIP applications and save conversations as wav, mp3 ogg or wma files. It can work in automatic mode (it will record automatically when you take a call or voice conversation with any VoIP application) or manual mode. You can set it auto run with windows.
Recording Schedule
Gilisoft Audio Recorder Pro includes an advanced time triggered recording which gives you the power to schedule recording either for a website or anything that runs on your desktop to start or stop at a certain time. Using this feature, recording are made automatically on the Once, Daily and Weekly you choose. With Auto. Record feature, you are able to set the time to start a recording, as well as the conditions (for example, time, file size, recording length) to stop a recording
Flexible Setting & Automatic Gain Control
Each format (AAC, AC3, AIFF, AMR, AU, FLAC, M4A, M4B, M4R, MKA, MP2, MP3, OGG, RA, VOC, WAV, WMA ) is provided with a preset list in order to get a precise result. It automatically detect the audio recording formats your sound card supports and then set the application's parameters for the best possible performance. The default parameters work in most cases, but you can change them easily to best suit your needs.
Long Time Recording Support
Gilisoft Audio Recorder Pro records audio to MP3/WMA/WAV directly and it can auto pause suspends recording when there is no sound. And it can record on the fly for as long as your like without interrupt. File Length Limitation/Voice Activation System to smartly split recordings