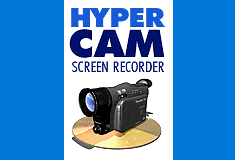 HyperCam captures the action from your Windows  screen and saves it to AVI (Audio-Video Interleaved) movie file. Sound from your system microphone is also recorded.
Please note that HyperCam is not intended for re-recording of other video clips from the screen (e.g. playing in Media Player, RealVideo, QuickTime etc.), but rather for creating regular software presentations, tutorial, demos etc. If you still want to try it for re-recording other movie clips, please read this first.
HyperCam supports text annotations, sound, and screen notes (great for creating automated software demos and software training!). You can also select Frame rate and compression quality prior to recording your movie.
HyperCam v.2 is compatible with Windows Vista (32 and 64 bit releases, XP, 2000, NT4, ME and Windows 98.
2010.06.07 Version 2.23.01
Added an option to "AVI File" tab to limit the screen capture color mode to 24 bits per pixel. It allows use of video compressors that cannot deal with 32-bpp images on systems that support only 16 and 32 bpp screen color mode. Normally keep this option turned off for better performance, use only if necessary.
2010.05.03 Version 2.22.01
Now made completely free for world-wide use. For a more powerful commercial version of HyperCam checkHyperCam 3, developed by our partner, Solveig Multimedia
2010.04.26 Version 2.21.01
Easier recording of YouTube clips from HyperCam Toolbar in IE or FireFox.
Changes in HyperCam 2.24.01, 2011.03.14:
* Bug fix – a file recorded with stere sound reported twice the actual lengh of the audio track
* Better setup/uninstall
Remark: No toolbars
(Registered Silent Repack) 32bit
HyperCam 32bit EN
HyperCam 32bit Chinese CHS
(Registered Silent Repack) 64bit
HyperCam 64bit