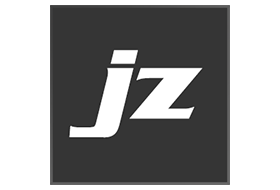 Hundreds of radio stations use JazlerShow! because it's reliable, fast and easy to use.
The collect system
With the collect system, you can enable JazlerShow to play jingles and effects from different palettes at the same time. By pressing the collect button, jazlerShow2 turns into collect mode. Pressing on the desired jingles, you collect them at the playlist decks at the left-right of your screen. By pressing collect again, you can playback either the jingles in the decks or the jingles in the buttons.
The Sequence System with multiple sound card outputs
Pressing the sequence buttons, all jingles collected will play one after another in a mix. Now jazlerShow2 has 2 sequence playlists that can also output to different soundcards!
Default Loop, Mix-Fade settings for every button
jazlerShow2 lets you save default settings for every audio file. You can loop, mix-fade or not let a specific jingle to re-play while playing!
Variable Length File Auto Check
jazlerShow2 can check an audio file if it has changed, so it can automatically update its new duration.
Quick response!
jazlerShow2 is one of the fastest programs in the world! The playback delay cannot be recognized by a human ear. With jazlerShow2 you are sure that your jingle will be on air on time!
Automatically finds broken audio files!
Now you never have to check again if an audio file is there (mistakenly removed). jazlerShow2 checks everytime you change from one palette to another, if all corresponding audio files are present and alerts you if not!
Sound mix and crossfade !
You can play up to 6 audio files at the same time. By pressing the mix-fade button you can crossfade from one audio file to another. This usually is needed when we use a musical bed and we want to stop it for a jingle/outro sound.
Palettes
With JazlerShow2 you have as many palettes as you want! Each palette can be adjusted to have up to 100 buttons for each page, and up to 10 pages for each palette. Five big preset buttons down left help you have quick access to the most used palettes.
Remembers what aired!
We added a new optional "check" button that adds a green glowing check icon on the button, that reminds you if you played the specific file.
Drag'n'drop
You can just drag an audio file on a button and assign the file to it. Right click on the button to make more changes!
Windows XP and higher —- Requires Microsoft .net framework 4.0
Remark: Thanks goes to DarkReg TSRh
(Cracked Silent Install Repack) x86