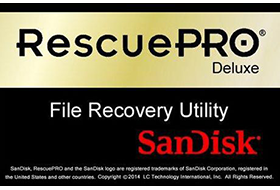 RescuePRO® Deluxe recover a variety of file types including images, video, documents, music and hundreds of other popular file types. If you recently received an error message when trying to read your card, or if you seem to have "lost" pictures, data or other lost files on your digital media device, SanDisk RescuePRO may be just the answer for you.
Features:
Recovers images, documents, mail, standard definition video, music or just about anything
RescuePRO® displays previews of the recoverable data, including MPEG audio and video
The user-friendly graphic interface makes it easy to recover your files with just a few mouse clicks
Secure media wiping is included for permanent deletion of data on your Digital Media
Imaging utility that will allow you to create an image of your media for recovery at a later time
RescuePRO® Deluxe:
All the great features of RescuePRO® Standard plus:
Supports high-end Digital Backs for SLR cameras, and HD Videos
Recovers greater capacities of up to 1 TB
Recovers Images, HD Videos, Sounds, Music, Animations, 2D/3D Vector Graphics, Databases, Spreadsheets, Archives, Presentations, and other formats.
Requirements:
System running Windows® 7 or higher
Minimum of 2 GB RAM
Minimum of free hard disk space twice as large as the media you wish to recover
You may also need a card reader for your media if the camera is not supported as a removable disk device
Works with most brands of digital devices
Thanks to UZ1 release

(Cracked Silent Repack) x86