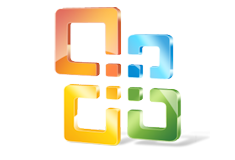 Microsoft Office 2010 is one of the best productivity experiences across the PC, phone, and browser for what you depend on today and what you'll expect tomorrow. It helps you rise to the challenge of today's business environment without losing sight of what's needed for IT success.
Microsoft has officially released the first service pack (SP1) for Office 2010 productivity suite. The Office 2010 SP1 includes the roll-up of all previously released updates, in addition to several new updates which improve security, performance, and stability.
Here's the official download pages and direct download links for Office 2010 SP1. The SP1 will be available through Windows Update and Microsoft Update, automatically for people with Automatic Updates turned on, although the update will be at later date.
Note that you have to download the correct version of 32-bit or 64-bit that matches the installed Office 2010 product, and not Windows operating system. For compatibility, Microsoft has recommended most users to install 32-bit version of Office 2010 even though they have 64-bit Windows 7 or Vista.
To check if you have x86 or x64 version of Office 2010, just run any Office application such as Excel, Word, PowerPoint, Outlook and etc, and go to File menu to select Help. The 32-bit or 64-bit version of the Office product will be listed under the About section. Nonetheless, the Office 2010 SP1 setup installer is smart enough to detect the version of the installed Office applications and prevent installation from proceeding if the version is incorrect.
Serial : YGX6F-PGV49-PGW3J-9BTGG-VHKC6
Microsoft Office Activator KMS
Remark:
2 January 2021 – Added my unattend installer
English x86
English x64
Chinese 中文版 x86
Chinese 中文版 x64