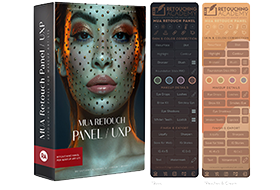 The MUA Retouch Panel is a smart Photoshop extension designed for delicate, intuitive, campaign-level retouching created with the Makeup Artist in mind. Developed by beauty photographer & retoucher Julia Kuzmenko McKim and makeup artist, photographer & retoucher Jordan Liberty over the years working in the Beauty Industry, the panel scripts are now available exclusively to the MUA Retouch panel users.
MUA Retouch Panel Features
You don't have to be a Photoshop expert to be able to successfully use it – our free exclusive Photoshop Basics video course will introduce you to the software and our video tutorials will help you get to know the panel's functions.
Most buttons use common makeup names and imitate the effects of the actual makeup products so you can quickly navigate the panel's sections and easily determine each buttons' purpose.
Who Is This Panel For?
Whether you are a professional makeup artist or just a beauty lover looking to perfect your portfolio or social media images – the MUA Retouch panel will help you do that with professional results.
New Tool For Your Makeup Kit
Makeup artists, now more than ever, are creating content and photographing their work to meet the ever-increasing demands of social media. However, campaign-quality results simply cannot be achieved through face-editing apps, and Photoshop can be daunting for beginners.
The MUA Retouch Panel was born out of necessity, combining familiar makeup techniques and terminology with powerful pro-level retouching scripts. Beauty retouching can now be achieved in a delicate and thoughtful way by those who know beauty best.
System Requirements
Compatible with Adobe® Photoshop® CC2021 (v22.0) and later
(Cracked Silent Install Repack) x86