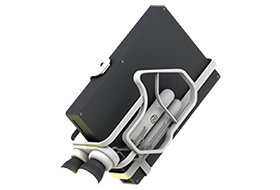 O&O Defrag Server 23 solves the performance and stability problems of Windows workstations and servers caused by fragmented hard disks.
Fragmented hard disks put the brakes on the servers and as a result have an adverse affect on productivity. The level of fragmentation proportionally increases the time needed for accessing a hard disk. This in turn increases the amount of valuable time lost by each and every employee.
The O&O Defrag Server 23 for Windows servers optimizes your hard disk and packs file fragments securely back together again. Thanks to clearly displayed graphics and statistics, you can monitor the success of regular defragmentation.
After every run you get a graph showing the before-and-after stats. You can then base your configuration of the program on these statistics to optimize the success yet more.
This O&O software for Server puts fragmented files together and maximizes your system speed and offers five different defragmentation strategies, as well as OneButtonDefrag technology for automatic adjustment of the settings best fitting for your system.
The program can defragment drives manually, or fully automatic in the background, keeping your system at peak performance by avoiding build-up of file fragmentation. Defragmentation jobs can also be scheduled, using various criteria. Additional features include status reports, cluster inspector, command line interface, optional MMC integration, boot time defragmentation, special support for mobile systems and more.
Fragmentation is the main cause of significant losses in performance in Windows. Due to the fact that the hard disk is the slowest component of a server, its optimization is an especially important issue. By using O&O Defrag Server, files can be read and written much more quickly.
Optimization of disks in virtual machines and SANs (Storage Area Networks)
Users of virtual machines know the phenomenon: the amount of data remains the same, but the memory for the virtual container increases and causes the virtual system to slow down. The new O&O Defrag Server effectively eliminates and prevents this performance problem from occurring. For the first time, O&O Defrag Server 23 can now optimize the actual memory allocation for virtual machines and SANs.
Integrated into Cloud IT Management solution O&O Syspectr!
O&O Syspectr gives you a complete overview of your entire Windows infrastructure. With an easy to use web application, you can track all the events in real time. You will be notified immediately over your dashboard or by e-mail when something strange happens. Now you can optimize and speed up your PCs and Servers over the internet, regardless of where you are. You can do so on any internet-capable device such as your Tablet, Smartphone or PC!
O&O Defrag Server 23 Basic functions:
Server and Workstation Performance increases of up to 100%
Prevents new fragmentation efficiently in advance
Organizes related file fragments on your hard drive
Faster system and program starts
Extends the life of your hardware
Speeds up your Internet browser
Increases the chances of recovering lost data
Automatic defragmentation in the background
Speeds up your backup and restoration processes
Defragmentation of your server at the push of a button
Also available for use on virtual machines
O&O Defrag Server 23 Advanced Settings:
Defrag multiple drives simultaneously
Adapts itself to system load (O&O Activity Guard)
Vendor-independent optimization of solid state drives (SSDs)
Classification of drives into zones (Optional)
Execution of Windows commands (Batches)
Defragments individual files and directories
A total of eight defragmentation methods
Defragmentation during startup and at runtime
Automatic check for new versions
Run O&O Defrag via scripts
Assistant to schedule regular defragmentation
Support for USB sticks and memory cards
Evaluation and analysis functions
Display of fragmentation levels
Display of the most fragmented files
Before-and-after display
History view to watch defragmentation success
Dynamic block view during defragmentation
Detailed report management
What's New in O&O Defrag Server 23.1:
NEW: SOLID, a brand-new defrgamentation method for SSDs and HDDs
The problem: SSDs store file fragments spread across many blocks, even though much fewer would suffice.
This memory behavior has an immediate effect on the performance and lifespan of an SSD. To counteract wear and at the same time to optimize the performance of SSDs, O&O Software has developed the new defragmentation method SOLID. By using the defragmentation method SOLID, these distributed file parts are defragmented so that in the future significantly fewer memory cells have to be read out and also written to when changing a file. As a result, the SSD is faster as the number of read and write accesses is reduced by the defragmentation. In addition, the premature wear of the SSD (and of course the conventional hard drive) is prevented because fewer blocks need to be erased and rewritten than before the defragmentation with SOLID. To stay with our example above: To read our sample file, it is not necessary to first access and read 32 different blocks, but only a single one.
The most comprehensive system performance application for all your disks
A positive side-effect of developing the defragmentation method SOLID has been found in tests on "classic" hard disks: it is O&O Defrag's most resource and hardware-friendly defragmentation method ever, with optimal results, and sets the new standard for defragmentation. As we mention above, files are also fragmented on SSDs. Data is often distributed to more memory cells than would be necessary. By defragmenting an SSD using our new method SOLID, it is possible to reduce the number of cells used to store file parts down to significantly fewer. This ability to optimize and protect both disk types is a prerequisite for today's data centers that handle mass data per second, and where downtime costs a significant amount of money.
Supported Operating systems:
Workstations: Windows 7, 8, 8.1, 10
Servers: 2008, 2008 R2, 2012, 2012 R2, 2016, 2019
(Registered Silent Repack)
x86
x64