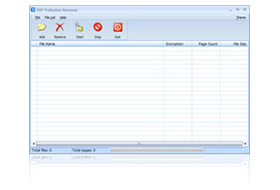 PDF Protection Remover is a quick and easy-to-use PDF utility that is designed to decrypt protected Adobe Acrobat documents (Supports 40-bit RC4, 128-bit RC4, 128-bit AES and 256-bit AES Encryption).
This software is able to decrypt PDF documents and is able to remove all protections, such as preventing copying, preventing printing, preventing editing, etc. Decrypted PDF file can be opened in any PDF viewer or any PDF editor without any restrictions. PDF Protection Remover is standalone software, Adobe Acrobat Reader is NOT required.
Main Features
Supports RC4 40-bit, RC4 128-bit, AES 128-bit and AES 256-bit Encryption.
Quickly remove PDF protections.
Does NOT need to install Adobe Acrobat Reader.
Doesn't depend on any print driver.
Support drag and drop PDF files.
Batch processes PDF documents.
Minimum Requirements
1. Windows XP / Vista / Windows 7 / 8 / 10
Remark: Special thanks to ByTESRam TSRh
(Registered Silent Install Repack) x86