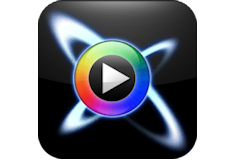 CyberLink PowerDVD 15 is an all-purpose entertainment station supporting all media types including video, audio and photographic conten. It will allow users to enjoy media on PC, mobile devices, home networks, and from the cloud, and even social networks.
It is a comprehensive media solution providing the ability to enjoy virtually any type of digital media. CyberLink PowerDVD 15 has no rivals in the the media player market – it brings users industry-leading Blu-ray, Blu-ray 3D, and DVD playback, while also offering superior playback performance for movie and video files. CyberLink PowerDVD 15 is the latest version of new features that improving a wide range of digital media experiences such as enhanced audio-visual quality, support for more disc and file formats, a media library, improved functionality, and improvements to the user interface.
CyberLink PowerDVD 15's new TrueTheater Color technology provides truer-to-life color playback for all video including UltraHD 4K and HEVC (H.265) formats.
• NEW TrueTheater Color – intelligently analyzes video footage and optimizes hues and vibrancy, creating a true-to-life viewing experience. TrueTheater Color recognizes skin tones in footage and applies only subtle adjustments to these areas in order to achieve improvements while retaining authentic coloring.
• NEW TrueTheater Sound – applies smart enhancements to four key areas simultaneously in order to create a richer, fuller audio environment:
* Bass boosting for effective recreation of that "cinema sound"
* Vocal range amplification, making speech crisper and more audible
* Reverb engagement to create a virtual surround sound effect
* Volume amplification to boost audio performance in environments with high levels of ambient noise such as aircrafts, trains, cars, offices, etc.
• WASAPI – Exclusive Audio Environment. Typically found only in very high-end audio applications, Windows Audio Session API (WASAPI) manages the flow of lossless audio data (ALAC and FLAC, for example) between software and speakers. PowerDVD can utilize an "exclusive mode," meaning that the software assumes exclusive use of the speakers to deliver a movie's soundtrack. That means PowerDVD is able to block non-critical system sounds, and eliminate instants of audio interruptions that can degrade the movie experience.
• A True Lossless Experience. Being able to assign the speakers exclusively to the audio playback of selected media also allows PowerDVD to provide optimum sampling rates for audio. CyberLink PowerDVD 15 configures the audio device to match the source format (bits per sample and sampling rate) so to avoid any quality degradation. The final result is true lossless audio, and perfect sound output.
• NEW Rip Audio Clips from Movies. CyberLink PowerDVD 15's new "Video Scene Selector" feature enables the viewer to set "in" and "out" points at any section of a video file, so that a favorite scene can be quickly revisited. Additionally, users can rip an audio track from the selected section in any video file, allowing specific songs or entire soundtracks to be saved as AAC or MP3 files.
• NEW Blu-ray and DVD ISO Playback. CyberLink PowerDVD 15 now offers convenient direct playback of Blu-ray and DVD ISO files, either directly from the PC or via a network-connected drive. No additional mounting tools are required.
• H.265 and H.264 Hardware Acceleration. New hardware acceleration support for Intel Haswell and NVIDIA Kepler processors enables flawless playback of all H.265 video files, without stutter and lag issues. PowerDVD also offers acceleration of H.264 files, bringing the same benefits to videos using the popular codec.
• Getting the Right Look and Feel. CyberLink PowerDVD 15 can be easily customized to meet specific needs. Media panel tabs can be hidden in order to streamline the interface. Hiding media panel tabs also halts related background processes, improving player speed and performance. The interface can be further personalized with custom wallpapers. Users can select from a range of professionally designed built-in wallpapers, or download more from CyberLink's MoovieLive website. Users can also set their own images as wallpapers.
• NEW PowerDVD Remembers Where You Left Off. The new media library for TV shows makes it easier for you to manage and enjoy all your TV shows in one place. PowerDVD helps users to save time and eliminate frustration by automatically restarting a show from the point it was last closed.
• NEW Smart Decoding and Rendering Technology. High speed video recording is no longer just for professionals. The new iPhone 6 can record video footage at 120 or even 240 frames per second (fps). But few media players offer quality playback for high speed video.
CyberLink PowerDVD 15 introduces an intelligent playback algorithm designed specifically for this purpose. PowerDVD will analyze the refresh rate of the monitor the footage is to be played on, then intelligently decode and render only those portions of the source clip that can be handled by the monitor. For example, if the source clip is filmed at 240 fps, but the playback display has only 60 fps refresh rate, CyberLink PowerDVD 15 will decode selected frames to match the refresh rate of the monitor. This results in smooth playback with zero stutter.
• NEW Overlay Mode – A Complete 4K Experience. Overlay rendering in PowerDVD offers a method of rendering video images to a monitor using a dedicated memory buffer inside hardware. This frees PowerDVD from constant memory clipping and checking that negatively impact playback performance. When PowerDVD detects a 4K video file and a 4K monitor, Overlay Mode is automatically engaged to optimize the rendering pipeline and reduce the graphic resource load, delivering smooth, lag-free playback.
• Battery Life Optimization. Device and laptop battery life is becoming an increasingly important factor for many movie lovers. Both CyberLink PowerDVD 15 and its mobile companion app, Power Media Player, have been designed from the ground up to extend useful battery life well beyond what other players can offer.
• Better YouTube and Vimeo Videos. Online video sites like YouTube and Vimeo are still growing in popularity. PowerDVD lets users enjoy online videos directly in the player. Using PowerDVD to watch online video has several key advantages:
* Improved viewing experience through TrueTheater enhancements. Upscale videos to HD, improve the lighting and color, amplify the audio, and even watch in 3D
* Added functionality that YouTube and Vimeo sites lack, such as fast-forward and slow motion
* Pin (download) any YouTube video for offline viewing
* Rip audio from any YouTube video and save it as an AAC or MP3 file
• Express Entertainment. CyberLink has spent extensive resources in the advancement of the company's Instant Play technology, aimed at making PowerDVD the quickest-loading player in the world. Instant Play is the name given to a set of start-up refinements based on data gleaned from PowerDVD's Customer Experience Improvement Program (CEIP). Usage data from participants is analyzed to determine which features and settings are most popular and which are less used. Features that are non-essential to users can be bypassed at startup to reduce loading times. Instant Play also integrates BD-Live bypass technology to remove Blu-ray previews when not needed, as well as express loading for specific start-up pathways, e.g. launching a video by double-clicking the file in Windows Explorer.
• Mobile Apps. CyberLink PowerDVD 15 comes with two companion mobile apps for Android, iOS and Windows devices.
• PowerDVD Remote. It instantly turns an iOS or Android device into a remote control, wireless mouse pad and keyboard for PowerDVD on a PC. Not only can PowerDVD be controlled with a smartphone or tablet, but media can be streamed from the mobile device to the PC.
Supported Operating Systems:  Windows 7, Windows 8, Windows 8.1 (32-bit, 64-bit). Win 10 Ready!
Remark : Not guaranteed to be working well. Activation is upgraded in this version. Let me know. Known for not working for Windows XP.
(Registered Silent Install Repack)