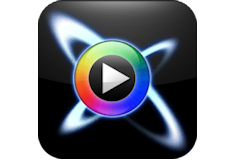 CyberLink PowerDVD 17 is an all-purpose media player supporting all media types including video, audio and photographic content. This media player will allow users to enjoy media on PC and TV, mobile devices, home networks. Also from the cloud, and even social networks.
CyberLink PowerDVD 17 is the ultimate media center, packing in the essential features needed to fully enjoy all media content in unbeatable quality.
And for people looking to create a cinema feel in their own homes, CyberLink PowerDVD 17 now has world-first technology essential to maximize the potential of your 4K and HDR TVs!
Now you can unleash the full power of Ultra HD and HDR TVs with unique technology. It delivers better resolution, colors, brightness, and even a full Virtual Reality experience.
Enjoy a complete multimedia experience with lossless quality audio, meaning you hear your music the way it was meant to be listened to. Rip CDs, extract audio from videos, or enjoy photo album slideshows in beautiful high-resolution on your PC or TV. CyberLink PowerDVD 17 even supports RAW image formats, meaning you simply have to press "Play".
CyberLink PowerDVD 17 Features:
NEW! Immerse yourself in VR with support for Oculus Rift and HTC Vive headsets and controllers.
Explore your world in 360º with support for spherical video and photos even on PC or TV.
NEW! New 3D-360 video support makes the whole experience feel even more real!
NEW! Share what you see in your VR experience with others by broadcasting it to PowerDVD on a traditional display.
ULTRA HD 4K BLU-RAY PLAYBACK
Enjoy the very latest Hollywood releases in the incredible detail that only Ultra HD Blu-ray can provide!
Support for HDR 10 means brighter, more vivid colors and better contrast on your HDR ready TV.
Enjoy a richer, deeper, more detailed surround sound experience.
CINEMATIC MOVIES
UNIQUE TV Mode brings the most natural, enjoyable movie experience to your home theater.
NEW TrueTheater HDR upscales video for better viewing on HDR displays.
UNIQUE streaming from PowerDVD to your TV with Roku, Apple TV and Chromecast devices.
UNIQUE TrueTheater enhancements for video and audio.
EXTENDED FORMAT SUPPORT. EVEN ONLINE
Play virtually any media with support for a huge range of video, audio, and image file formats.
NEW YouTube 360 and 4K video streaming. Even pin to watch offline later. Perfect for your next road trip!
Cinematic audio with master-quality Dolby and DTS support sound technology plus lossless audio formats such as FLAC and DSD.
What's New in CyberLink PowerDVD 17:
Play Ultra HD Blu-ray. As great a jump from Blu-ray, as Blu-ray was from DVD. The best home cinema gets!
TrueTheater HDR. Experience the next big leap in picture quality. Apply HDR enhancement to all your movies!
VR Headset Support. 3D-360 video is a game changer! A mind-blowing experience that puts you right in the video!
Pin YouTube 360 and 4K Video. Enjoy the best quality videos from YouTube, or save them to watch offline at a later date.
Supported Operating System:
Ultra HD Blu-ray: Microsoft Windows 10 (32-bit and 64-bit with 2015 Nov. updates)
Blu-ray Disc, DVD, and TrueTheater 3D Playback: Microsoft Windows 10, 8.1/8, 7 with Service Pack 1
VR Mode: Windows 10/8.1/7 with Service Pack 1

(Registered Silent Repack)