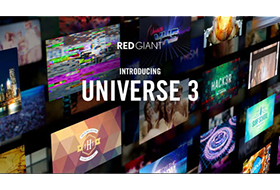 Over 60 GPU-accelerated effects and transitions for editors and motion graphics artists. Stylize Your Footage with Red Giant Universe. Give your footage authentic retro and modern day looks using tools like VHS, Retrograde Carousel, Glitch, Holomatrix II, and more.
Universe 2023 provides improved support for alpha layers in Avid Media Composer and over 100 new presets for the Generators category. We've not only expanded on the selection of beautiful background imagery available, but we've aimed to highlight further capabilities of these tools you may not have realized were possible such as overlays, light leaks, lower thirds, and text strips.
Motion Graphics
Create beautiful looping backgrounds and motion graphics elements with tools like HUD components, Line, Knoll Light Factory EZ, Fractal Background, and more.
Transitions and Effects
Build fast, unique transitions with little or no work. Add glows and other effects that give you better results and more shortcuts, options and control than anything in your host app.
Open GL
All of the Universe plug-ins run on the GPU, making them incredibly fast.
Host Applications
-Adobe After Effects: CC 2017 later
-Adobe Premiere Pro: CC 2017 or later
-Apple Final Cut Pro X: 10.2.3 or later
-Avid Media Composer: 8.2 and later*
-Motion: 5.3.2 or later
-Magix Vegas Pro: 14 or later
-HitFilm Pro: 2017 or later
-DaVinci Resolve: 14 or later
*Prism Displacement, Compound Blur, and Picture in Picture are not supported in Avid Media Composer
Operating System: Windows 10, 11 (64-bit only)
Thanks to Team V.R release
(Installer with activator) x64