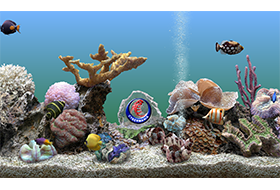 SereneScreen Marine Aquarium is a realistic, high-definition screensaver that converts your computer screen into a vibrant, colorful saltwater aquarium.
You can choose from 27 different exotic fish species–from the Addis Butterflyfish to the Yellow Tang–and SereneScreen can display up to 30 fish at a time, with an easy interface for creating and customizing your own sets of fish (including an option for random species). You also have settings for auto-panning, frame-rate, iTunes playlists, and a bubble column (from a virtual aerator, with optional bubble sound).
Changelog:
We've completely rebuilt our Windows installer to provide as seamless an experience possible, and improved compatibility with the latest version of Windows 10.
(Cracked Silent Install) x86 x64
SACHS Marine Aquarium 0.99 (Windows XP)
(Registered Installer) Old old aquarium…….