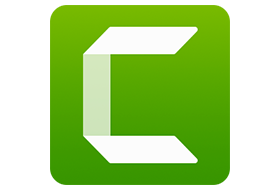 TechSmith Camtasia is the complete professional solution for high-quality screen recording, video editing and sharing. With support for a variety of video standards, you can ensure your content delivery now and in the future.
Use TechSmith software to record on-screen activity, customize and edit content, add interactive elements, and share your videos with anyone, on nearly any device. Construct more engaging videos faster with multiple video and audio tracks. Record high-quality videos in no time with Camtasia Studio's advanced screen recorder.
Whether you're recording HD video, a PowerPoint presentation, or a video game, you'll get smooth playback. Easily import HD video, photos, music, and more to create unique videos that stand out.
Camtasia Studio also lets import existing videos you have for quick editing, and add images or your favorite song to enhance your videos or make a presentation your own.
Intelligent capture controls that adapt to you
Crystal-clear playback at any size with Camtasia SmartFocus
Easy, versatile video sharing with TechSmith ExpressShow
Precise editing and butter-smooth onscreen movement
Professional content without a ton of production time
Quickly create eye-catching videos
Stunning video effects. Apply Behaviors that are perfectly designed to animate your text, images, or icons. Get a crisp, polished look without being a professional video editor.
Drag-and-drop editing. What you see is what you get. Every effect and element in your video can be dropped and edited directly in the preview window. And you can edit at resolutions up to beautiful 4K, for clear video at any size.
Exceptional performance. Camtasia takes full advantage of your computer's processor with 64-bit performance. You'll get fast rendering times and enhanced stability – even on your most complex projects.
Training materials, educational content, product overviews, marketing videos
Animated backgrounds. You'll have access to a variety of backgrounds that grab attention right from the start.
Music tracks. Use music to set the mood of your video. All tracks are royalty free and safe to use on YouTube and Vimeo.
Icons. Choose from hundreds of icons, or bring in your own straight from your computer.
Motion graphics. Get lower thirds, intro slides, and more so you can start quickly and look great.
Camtasia Features built to help you make better videos:
SCREEN RECORDER. Record any part of your screen, down to the pixel.
WEBCAM. Webcam lets you add a personal touch to your video.
MEDIA. Import images, audio, and video up to 4K resolution.
ANNOTATIONS. Arrows, callouts, shapes, and more help you get your point across.
TRANSITIONS. Add an intro/outro to the beginning or end of a clip, image, shape, or text.
ANIMATIONS. Zoom, pan, or create your own custom motion effects.
VOICE NARRATION. A great way to add context to what you're showing.
AUDIO EFFECTS. Add audio effects to recordings, music, or narration to enhance your video.
VISUAL EFFECTS. Adjust colors, add a drop shadow, change the clip speed, and more.
INTERACTIVITY. Add quizzes to see who is watching your videos, and how much they've viewed.
GREEN SCREEN. Put yourself in your video making it appear like you're right in the action.
MULTI-TRACK TIMELINE. Build your videos quickly with multiple tracks for images, video, text, and audio.
Changes in TechSmith Camtasia 2020.0.12 (November 23, 2020):
"Jump to next/previous animation" now considers all media on the timeline, not just selected media.
Added message informing users when they try to enter a license key that was not created correctly.
Improved startup performance.
When sharing to Knowmia the project name is now suggested as the production title.
Fixed a bug that prevented adding a media to the timeline when doing so would create more than one track.
Fixed a crash that could occur when opening or upgrading some projects.
Fixed a bug that would prevent animated cursors from macOS recordings from displaying correctly.
Fixed a bug that prevented files with incorrect audio channel metadata from loading into upgraded projects.
Fixed a hang that could occur when closing the application.
Fixed a bug that caused the preview scale to change when previewing Transitions.
Fixed a bug that caused the transition thumbnail to play the media preview when previewing a transition at the same time.
Supported Operating Systems:
Windows 10 (Required: 64 Bit versions only).
TechSmith Camtasia 2020.0.13 Build 28357
(Cracked Silent Install Repack) x64
TechSmith Camtasia 2020.0.12 Build 26479
(Cracked Silent Install Repack) x64