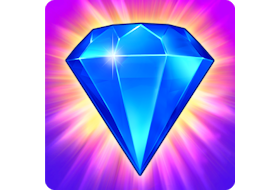 Get set to play the PopCap game that set the standard in casual gaming! Match sparkling gems three at a time to make them burst in showers of color and points. Match four or more to create flashy power gems that boost your score and your mood with brilliant cascades and combos.
Soar to gem-matching heights in Classic mode, or speed through matches against the clock in Action. For even more dazzling fun, bump up your brainwaves with multi-faceted Puzzles, or enter the Zen state of Endless play. Every match is high-carat fun!
More About the Game
A mode for every mood: Classic, Action, Puzzle or Endless
Create explosive jewels: Power Gems and Hyper Cubes
Rise up the ranks and save your high score
Can't quite spot that next match? Use hints-on-demand for a quick tip!
OS*: Windows 2000/XP/Vista
Processor: 700MHz (minimum); 1+GHz (recommended)
Memory (RAM): 256MB (minimum); 512+MB (recommended)
Free Hard Drive Space: 50+MB
DirectX Version: 8 (minimum); 9.0c+ (recommended)
Sound: DirectX-compatible
Video: DirectX-compatible; 16MB (minimum), 32+MB (recommended)
Color Quality: 16-bit or 32-bit color mode (256 colors may not work)
Controls: Keyboard and mouse
Internet: Internet connection is required to register/unlock game trials – including those delivered via CD-ROM
(Cracked Repack)