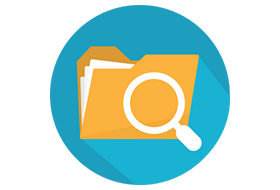 Use the Find My Files search program to search and find files in a lightning fast way.
Advanced Search Technology
Specially developed search methods from data forensics ensure fast and complete finding of searched files.
Detailed Overview
Get recently used files and important file information at a glance.
Careless Working On The PC
Never again worry about where to store something or which name to use. You have the security that you will find back everything!
Time Saving At All Levels
Keyboard shortcuts, an overview of recently used files and quick tracking ensure speed at all times.
With Find My Files you can find your data easily and quickly
Who hasn't? A file on your PC has suddenly disappeared and you ask yourself desperately: How do I find a file again? In the stress of everyday life it happens very quickly that you simply save an important file and forget where to find it. Keeping order in the flood of files on the PC is difficult and finding something in the daily growing chaos is almost hopeless. In many cases, the search for a missing file becomes an annoying search for a needle in a haystack. But with the right choice of search program, you can find what you are looking for in seconds. With Find My Files you can save files anytime and search for them later.
Extremely fast and accurate search
Find My Files convinces in daily use by an enormously high speed and accuracy based on a specially developed search syntax for NTFS index technology. It uses novel methods of data forensics, which are also used by ministries and investigating authorities such as the Federal Criminal Police Office (BKA) and the Federal Office for Information Security (BSI). The search program has a helpful Search-As-You-Type function, which provides the searcher with a suitable result in real time even while entering the search term. External hard drives can also be included in the search if desired.
Sort results and keep track of all files
The result list can be sorted by clicking on important information and, for example, the largest memory-consuming files on the hard disk can be determined. It quickly becomes clear that Find My Files is not one of them. Although it is a great tool in terms of usefulness, it takes up surprisingly little space on the computer. Thanks to its sophisticated search algorithms, Find My Files even manages to detect super links such as hard links compared to other search tools on the market. With an average acquisition time of less than 30 seconds for 1 million files, Find My Files ranks at the top of the list. In addition to path and name, a practical overview displays further information on the file attributes found, such as size, modification dates and creation date. With this control center you always have all files in view.
(Retail Silent Install Repack) x86