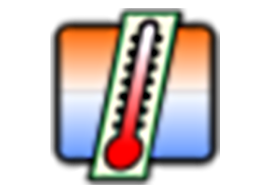 Core Temp is a compact, no fuss, small footprint program to monitor CPU temperature.
Now Windows Vista and Windows 7 ready! (x86 and x64)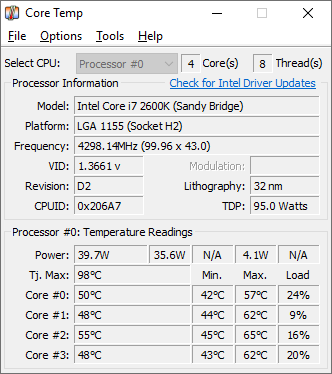 The uniqueness of it is that it shows the temperature of each individual core in each processor in your system! You can see in real time how the CPU temperature varies when you load your CPU. It's also completely motherboard independent.
Intel and AMD recently published detailed, public information about the "DTS" (Digital Thermal Sensor), which provides much higher accuracy and more relevant temperature reading than the standard thermal diode sensors do.

This feature is supported on all Intel Core and Core 2 based processors as well as the whole AMD's Athlon64 line of CPUs.
Note: AMD Phenom is supported, but it does not report absolute temperature.
Core Temp also has a logging feature, allowing a user to easily record the temperature of his processor(s) over any period of time, then the data can be easily transferred into an excel datasheet for easy graphing.
Core Temp works on Windows XP Service Pack 2, 2003 Server, Vista and Windows 7 (both 32bit and 64bit versions).
Thanks to CoolIT Systems for providing a digitally signed Core Temp driver which now works on all Vista and Windows 7 versions.
Version 0.99.7.0 – 26th June, 2010
– New: Implemented Windows 7 taskbar button features. (Under the Options menu)
– New: Clock modulation detection for Intel processors.
– New: Proper support the Phenom II X6 and Athlon L100 series.
– New: Support for the E3000 Celeron series.
– New: Displays the processor's manufacturing process. (Lithography)
– Fix: Intel frequency detection.
– Fix: Frequency doesn't update after exiting from Sleep or Hibernation. (Intel)
– Fix: Reading and logging intervals in Settings can't be changed.
– Fix: Minor Intel processor recognition issues.
– Fix: On some systems the System Information window would flood the screen with errors.
– Fix: G15 plugin restarts after resuming from sleep even if it was previously disabled from the menu.
– Fix: Overheating protection on AMD processors bug.
– Update: Rearranged the main GUI and added new information.
– Update: Added missing Intel Socket names.
Version 1.0 RC4 – 15th October, 2012
– New: Multilingual interface. Core Temp now natively supports adding non-English languages.
– New: Plugin system – 3rd party developers can now create plugins and extensions for Core Temp, both native code and .Net is supported
– New: Added support for Intel Pentium and AMD K5 and newer processors. (detection only, Temperature by Acpi Thermalzones)
– New: Added support for VIA processors. (C3 – detection only, Temperature by Acpi Thermalzones)
– New: Intel Sandy Bridge, Ivy Bridge, AMD Bulldozer, Piledriver and Fusion (Trinity, Llano, Brazos) support.
– New: Max TDP detection on supporting processors.
– New: Active power consumption on Intel's Sandy Bridge and Ivy Bridge processors.
– Fix: All of the user reported bugs and many more unreported problems.
– Update: Optimized the startup code, Core Temp should now launch 2 to 4 times faster.
– Update: Optimized many other aspects of the code, Core Temp should now consume much less CPU time than before.
– Update: Restored support for older OS: Windows XP is now fully supported, Windows 2000 requires security updates KB935839, KB835732 and GDI+. In some cases hotfix KB816542 may be needed as well.
Core Temp 1.0 RC6:
Download