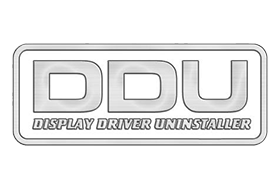 Display Driver Uninstaller is a graphics driver removal tool that helps remove all remnants of AMD, NVIDIA and Intel graphics card drivers including old registry keys, files, folders and driver stores.
Intel, AMD and Nivdia drivers can normally be uninstalled with the Windows Uninstall Programs window. However, often the standard uninstall fails or does not completely delete the old video card drivers. This can cause issues when installing new/updated drivers.
After running Display Driver Uninstaller the program will make it as if you are about to install a new video driver on a fresh, clean install of Windows.
Display Driver Uninstaller makes many system changes and the author has wisely built in a function to help you remember to create a new system restore point before running the cleaner so you can revert your system if have problems. However, make sure you familiarize yourself with how to use system restore prior. So if you having issues installing a new driver or uninstalling an old one, Display Driver Uninstaller may do the trick for you.
Display Driver Uninstaller (DDU) V18.0.2.6 Released.
ChangeLog:
– Intel: Additional service removal : igccservice
– Intel: Removal of the DCH control panel : IntelGraphicsExperience
– Vulkan: removal enhancements. (thanks mirh)
– NVIDIA: Fixed an issue preventing PhysX to be removed without DDU when DDU was first used without removing PhysX.
– Realtek: Small Realtek copy/paste removal fix.
– General: Fixes to the Audio Controller removal.
– General: Make use of ServiceProcess.ServiceInstaller instead of P/Invoke for service removal.
– General: Changed some default options
– General: Do not use "searchfilterhost" for the "SYSTEM" impersonation.
– Translation update: Ukrainian.xml
Homepage: http://www.wagnardmobile.com/DDU/
Changelog: http://www.wagnardmobile.com/?q=display-driver-uninstaller-ddu-
Release Date: 2020-06-26
OS: Windows XP up to Windows 10
Language: Multilingual
DOWNLOAD:
===========
Portable (1.27 MB): https://www.wagnardsoft.com/DDU/download/DDU V18.0.2.6.exe