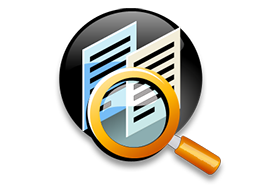 Duplicate File Detective uses state-of-the-art file content analysis technology to show you exactly where your duplicate files are (even when the file names are different). You can search multiple folders, drives, removable storage devices, even network shares – all in a single pass. Then move, zip, or remove duplicate files safely with assistance from our innovative SmartMark duplicate file selection system.

Feature:
Find exact duplicates based upon file contents (with optional byte-for-byte matching)
Built-in scheduler makes it easy to run reports on a scheduled or recurring basis
Choose which duplicate files to process using our SmartMark assisted selection technology
Support for master search paths, allowing users to check for duplicates against an authoritative source folder
Powerful file hash caching technology improves file comparison performance.
Move, delete, or zip duplicate files with the built-in Duplicate File Manager tool
Replace duplicate files with shell, symbolic, or hard links to the originals
Remove empty folders while deleting or moving duplicate files
Move duplicate files while retaining the original folder structure
Extremely robust command line interface for integration and automation support
Find duplicate music files via audio tag extraction and analysis
Comprehensive search filtering – limit searches by file name, date, size, length, and more
Search multiple local and network paths in a single pass
Export duplicate file search results in XML, HTML, CSV, TXT, PDF, and Excel file formats
Re-import duplicate file search results from XML data files
Compare the contents of individual files within zip archives
Powerful file type reports shows which duplicate file types are consuming the most space
Built-in file hash / checksum calculation tool (supports CRC32, ADLER32, MD5, SHA1, SHA256 and SHA512)
Amazing enterprise-grade scalability – handles even the largest file systems with ease
Media preview window with support for common image, video, and audio file formats
Highly customizable duplicate file search report with sorting, printing, and much more
File content hash / checksum caching technology for improved performance
Email support allows reports to be sent via the command line or scheduler interfaces
Support for low-priority I/O operational mode on Windows Vista and later
Automatic NTFS compression of qualified file types (HTML, CSV, XML) during export
Robust shell context menu provides access to duplicate search from within Windows Explorer, etc.
Automatic update checking with optional HTTP proxy authentication support
Project-based architecture allows you to save and load duplicate search projects with ease
Fully customizable, easy-to-use ribbon bar interface
Powerful operational logging through all phases of file discovery and comparison
Version 7.2.65 (Released March 26, 2022)
Improvement: Duplicate File Detective now requires a 64-bit Windows operating system.
Improvement: Added support for new personal edition license type.
Improvement: UI font is now embedded in application resources (no longer system installed).
Improvement: Product installation storage footprint reduced by approximately 40 percent.
Improvement: Improved performance for scenarios involving search path inclusivity tests.
Improvement: Greatly improved XML duplicate search result import performance.
Improvement: Improved performance for duplicate file report pruning functionality.
Improvement: Improved performance of audio tag extraction file processing.
Bug fix: Windows task bar progress indicator persisted after xml import cancellation.
Bug fix: File name comparisons were not properly ignoring extensions (when configured to do so).
Bug fix: Fixes and minor improvements to PDF document preview support.
Bug fix: Fixed bug in SmartMark targeting files by size.
Bug fix: Additional minor UI improvements and fixes.
Thanks to UZ1 release
Professional (Cracked Silent Install Repack) x64
Enterprise (Cracked Silent Install Repack) x64
Server (Cracked Silent Install Repack) x64