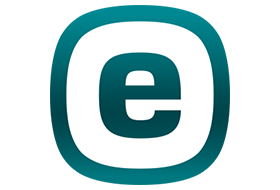 ESET Endpoint Antivirus 7 represents a new approach to truly integrated computer security. The most recent version of the ThreatSense® scanning engine utilizes speed and precision to keep your computer safe. The result is an intelligent system that is constantly on alert for attacks and malicious software endangering your computer.
ESET Endpoint Antivirus 7 is a complete security solution produced from our long-term effort to combine maximum protection and a minimal system footprint. The advanced technologies, based on artificial intelligence, are capable of proactively eliminating infiltration by viruses, spyware, trojan horses, worms, adware, rootkits, and other Internet-borne attacks without hindering system performance or disrupting your computer.
ESET Endpoint Antivirus 7 is primarily designed for use on workstations in a small business environment.
In the Using ESET Endpoint Antivirus by itself section you can find help topics divided into several chapters and subchapters to provide orientation and context, including Download, Installation and Activation.
Using ESET Endpoint Antivirus with ESET Security Management Center in an enterprise environment allows you to easily manage any number of client workstations, apply policies and rules, monitor detections and remotely configure clients from any networked computer.
The Common Questions chapter covers some of the most frequently asked questions and problems encountered.
Features and benefits
Redesigned user interface

The user interface in this version has been significantly redesigned and simplified based on the results of usability testing. All GUI wording and notifications have been carefully reviewed and the interface now provides support for right-to-left languages such as Hebrew and Arabic. Online Help is now integrated into ESET Endpoint Antivirus and offers dynamically updated support content.

Antivirus and antispyware

Proactively detects and cleans more known and unknown viruses, worms, trojans and rootkits. Advanced heuristics flags even never-before-seen malware, protecting you from unknown threats and neutralizing them before they can do any harm. Web access protection and Anti-Phishing works by monitoring communication between web browsers and remote servers (including SSL). Email client protection provides control of email communication received through the POP3(S) and IMAP(S) protocols.

Regular updates

Regularly updating the detection engine (previously known as "virus signature database") and program modules is the best way to ensure the maximum level of security on your computer.

ESET LiveGrid®
(Cloud-powered Reputation)

You can check the reputation of running processes and files directly from ESET Endpoint Antivirus.

Remote management

ESET Security Management Center allows you to manage ESET products on workstations, servers and mobile devices in a networked environment from one central location. Using the ESET Security Management Center Web Console (ESMC Web Console), you can deploy ESET solutions, manage tasks, enforce security policies, monitor system status and quickly respond to problems or threats on remote computers.

Network attack protection

Analyses the content of network traffic and protects from network attacks. Any traffic which is considered harmful will be blocked.

Web control (ESET Endpoint Security only)

Web control lets you block webpages that may contain potentially offensive material. In addition, employers or system administrators can prohibit access to more than 27 pre-defined website categories and over 140 subcategories.
What's new in version 7
What's new in ESET Endpoint Antivirus 7.0
•New design of graphical user interface.
•Drag and drop files scan – You can scan a file or folder manually just by moving the file or folder to the marked area.
•Network attack protection is now available in ESET Endpoint Antivirus. For more information, see Network attack protection.
•In Protection status, quick action link can be disabled by ESET Security Management Center policy.
•Device control rules can be applied now for a certain time period. For more information
What's new in ESET Endpoint Antivirus 7.1
•New type of logging – Advanced type of logging is now available. For more information
What's new in ESET Endpoint Antivirus 7.2
•Advanced machine learning is an advanced layer of protection that improves detection based on machine learning. Read more about this type of protection in the Glossary. The Detection engine setup no longer provides ON/OFF switches as for version 7.1 and below. ON/OFF buttons are replaced with four thresholds – "Aggressive", "Balanced", "Cautious" and "Off".
•Latvian localization added.
•Changes to exclusions. Performance exclusions allow you to exclude files and folders from scanning. Detection exclusions allow you to exclude objects from cleaning using the detection name, path or its hash.
•New HIPS program module includes Deep Behavioral Inspection, which analyzes the behavior of all programs running on the computer and warns you if the behavior of the process is malicious. Find more about HIPS in our help pages.
•Configurable interactive alerts allows you to adjust behavior for configurable interactive alerts (for example, hide the "Restart recommended" alert on endpoint machines).
What's new in ESET Endpoint Antivirus 7.3
•This minor release comes with various bug fixes and performance improvements.
System requirements
For seamless operation of ESET Endpoint Security, the system should meet the following hardware and software requirements (default product settings):
Processors Supported
32-bit (x86) processor with SSE2 instruction set or 64-bit (x64) processor, 1 GHz or higher
Operating Systems
Microsoft® Windows® 10
Microsoft® Windows® 8.1
Microsoft® Windows® 8
Microsoft® Windows® 7 SP1 with latest Windows updates (at least KB4474419 and KB4490628)
Windows XP and Windows Vista is no longer supported for version 7.
Version 7.3.2051.0
Fixed: Upload of quarantined files to ESET Protect.
Fixed: Low-level conflict between real-time file-scanner component and RSA NetWitness® Endpoint (ECAT) causing computer to become irresponsible.
Fixed: Protection after and during failed Windows upgrade.
Fixed: Editing of scheduled tasks in imported configuration.
Fixed: Possible corruption of local Windows Installer (MSI) registries after repeated installation attempt of Japan-region package, resulting in later failures during uninstallation.
Fixed: Pause of scheduled scan possible after maximum time passed.
Fixed: Displaying of Firewall and Device control rules.
Fixed: Displaying of Protected websites list.
Improved: Firewall driver un-installation from older versions.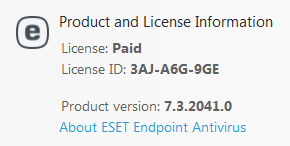 Remark:

Older version looks like will get screw by ESET itself. Just prepare for future. Please use for own and don't abuse.
4 October 2020 – Licensed release. Pray it work for long time… No guarantee long run.

(Licensed Activated) 2 0 2 3 – 0 6 – 0 2 Expired

x86
x64